Hot Isostatic Pressing to Complement AM-Part Production
October 1, 2016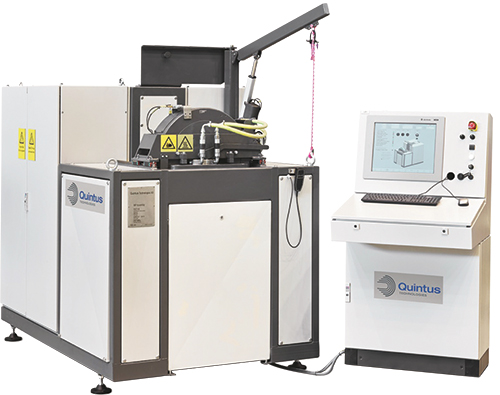 Come this fall, a new metal additive-manufacturing (AM) center in Davie, FL, opened by Sintavia LLC, will boast a hot isostatic press (HIP) from Quintus Technologies that is expected to help AM parts meet exacting quality-control standards for aerospace and defense customers.
"Without HIP technology, additively manufactured parts are susceptible to porosity and lack of fusion," states Sintavia founder Brian Neff. "HIP allows for near 100-percent net-density parts."
The model QIH 15L press is equipped with Quintus's proprietary Uniform Rapid Cooling, which, by incorporating densification and heattreatment in the same equipment, shortens cycle times. Thus the press plays a key role in allowing Sintavia's aviation customers to respond to mandates to compress build-to-fly time.
The press features a hot-zone capability of 7.3 by 19.7 in., enables pressures to 30,000 psi and handles temperatures to 2550 F. The modular-designed press is delivered as a complete unit, with gas-compressing system, cooling unit, transformers, electrical cabinets and pressure vessel all mounted in a 103 by 73-in. skid.
"While heattreatment is widespread, there is not a lot of HIP capacity available today," comments Sintavia co-founder and president Doug Hedges. "As the demand increases, we wanted to stay in front of the curve, controlling our own HIP needs."
Adds Neff, "As the AM process continues to penetrate various supply chains, not just aerospace and defense, you'll see more applications requiring HIP-ing."
Sintavia's state-of-the-art facility in Davie offers metal AM via the powder-bed fusion process, as well as metrological and metallurgical testing. Its customer base includes aerospace and defense OEMs and Tier One suppliers.
Quintus Technologies: www.quintustechnologies.com
See also: Quintus Technologies, LLC
Technologies: Additive Manufacturing