Generative-Design Software Powers Turbocharger Redesign for AM
February 11, 2021
Florida-based KW Micro Power designs and manufactures auxiliary power units for commercial aviation and military applications. Always on the lookout for technology to improve production and performance of its micro-generator products, KW Micro Power pays particular attention to weight-saving solutions for APUs destined for aircraft and drones.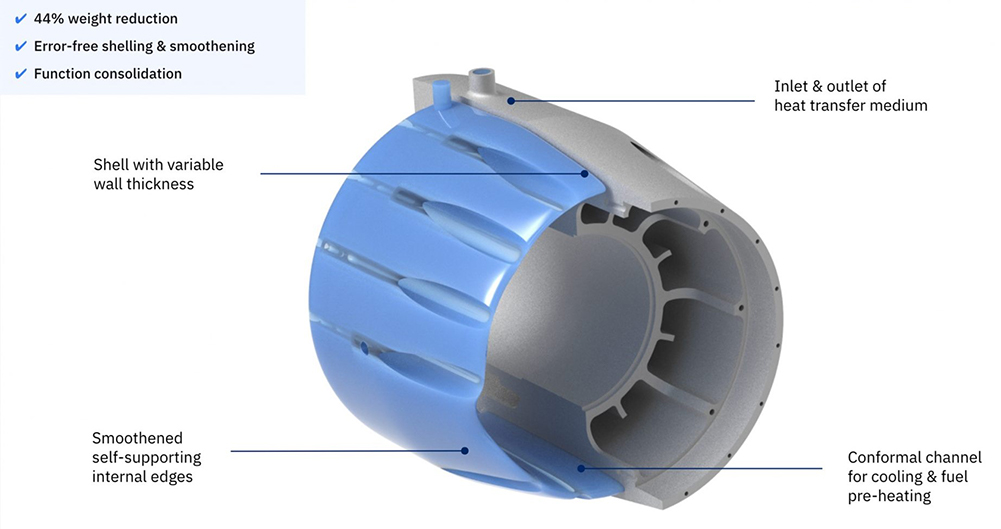 Recently, KW Micro Power employed software and expertise from nTopology to redesign for additive manufacturing (AM) the housing of its aerospace-grade, compact turbogenerator. The result: an AM solution that reduced the component's weight by 44 percent, with a total weight savings of 4.5 kg. The housing is printed as a single piece on a Velo3D Sapphire AM system, replacing the original process of CNC machining, with aluminum F357 as the part material.
The design-for-AM process and use of nTopology generative-design software resulted in conversion of the housing's formerly empty shell into a conformal cooling channel to improve the thermal management of the high-power-density generator. To achieve this result, the project's engineering team removed unnecessary material by creating a hollow shell with a variable wall thickness. The entire process reportedly required only a few simple design blocks in nTopology, was performed almost instantaneously without errors, and took less than a day's work before the part was ready to manufacture.
The hollow shell structure, initially conceived to reduce the motor casing's weight and adapted to serve as a cooling channel, delivered a host of improvements (pictured). This includes a 33-percent drop in maximum operating temperatures, while the external temperature of the generator dropped by 86 percent to 27 C, making it safe to the touch. Fuel was used as the heat-transfer medium, providing preheating from room temperature to 55 C and increasing the efficiency of the combustion process.
Technologies: Additive Manufacturing