Desktop Metal Debuts Enhanced Office-Friendly Metal-AM System
February 2, 2021
Desktop Metal, Inc. has officially launched its Studio System 2, building off of the Studio System+ with enhancements including new print profiles and a new material system designed to deliver superior part quality, accuracy and surface finish while minimizing printing trial and error across a wide range of complex geometries, according to company officials. Shipments are set to begin in the first quarter of 2021, including upgrades for Studio System users.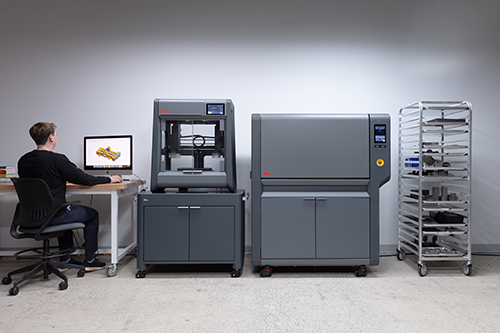 Studio System 2 reportedly enables high-quality metal part production in an office environment with a simplified two-step solution that eliminates the need for a solvent debind phase. The new system features Desktop Metal's Fabricate software workflow, which fully automates part creation through printing and sintering to produce end-use parts with densities and feature accuracy reportedly similar to casting.
"Our next-generation Studio System 2 takes the best features of the original Studio System+ and significantly improves upon them, delivering higher quality end-use metal parts through a more streamlined and accessible process, and within an even smaller footprint," says Ric Fulop, CEO and co-founder of Desktop Metal.
The office-friendly Studio System, which first debuted in 2017, leverages Desktop Metal's bound metal deposition technology, a powder metallurgy-based process in which loose powders and dangerous lasers commonly associated with metal 3D printing are eliminated in favor of bound metal rods to shape parts layer-by-layer. The Studio System 2 retains all the critical features of the original Studio System, while delivering numerous advancements.