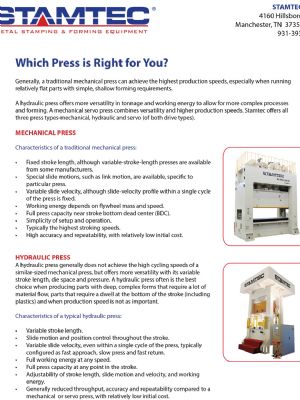 Stamping Presses
Which Press is Right for You?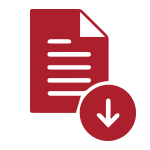 DOWNLOAD WHITE PAPER
Generally, a traditional mechanical press can achieve the highest production speeds, especially when running relatively at parts with simple, shallow forming requirements.
A hydraulic press offers more versatility in tonnage and working energy to allow for more complex processes and forming. A mechanical servo press combines versatility and higher production speeds. Stamtec offers all three press types—mechanical, hydraulic and servo (of both drive types).
Mechanical Press
Characteristics of a traditional mechanical press:
Fixed stroke length, although variable-stroke-length presses are available from some manufacturers.

Special slide motions, such as link motion, are available, specific to particular press.

Variable slide velocity, although slide-velocity profile within a single cycle of the press is fixed.

Working energy depends on flywheel mass and speed.

Full press capacity near stroke bottom dead center (BDC).

Simplicity of setup and operation.

Typically the highest stroking speeds.

High accuracy and repeatability, with relatively low initial cost.