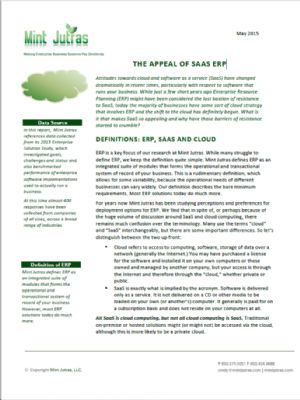 Management
The Appeal of SAAS ERP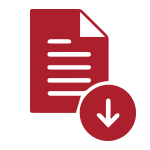 DOWNLOAD WHITE PAPER
Attitudes towards cloud and software as a service (SaaS)have changed dramatically in recent times, particularly with respect to software that runs your business. While just a few short years ago. Enterprise Resource Planning (ERP) might have been considered the last bastion of resistance to SaaS, today the majority of businesses have some sort of cloud strategy that involves ERP and the shift to the cloud has definitely begun. What is it that makes SaaS so appealing and why have those barriers of resistance started to crumble?
Definitions: ERP, SAAS and Cloud
ERP is a key focus of our research at Mint Jutras. While many struggle to define ERP, we keep the definition quite simple. Mint Jutras defines ERP as an integrated suite of modules that forms the operational and transactional system of record of your business. This is a rudimentary definition, which allows for some variability,because the operational needs of different businesses can vary widely. Our definition describes the bare minimum requirements. Most ERP solutions today do much more.
For years now Mint Jutras has been studying perceptions and preferences for deployment options for ERP. We find that in spite of, or perhaps because of the huge volume of discussion around SaaS and cloud computing, there remains much confusion over the terminology. Many use the terms "cloud" and "SaaS" interchangeably, but there are some important differences. So let's distinguish between the two up front:
Cloud refers to access to computing, software, storage of data over a network (generally the Internet.) You may have purchased a license for the software and installed it on your own computers or those owned and managed by another company, but your access is through the Internet and therefore through the "cloud," whether private or public.

SaaS is exactly what is implied by the acronym. Software is delivered only as a service. It is not delivered on a CD or other media to be loaded on your own (or another's) computer. It generally is paid for on a subscription basis and does not reside on your computers at all. All SaaS is cloud computing, but not all cloud computing is SaaS.Traditional on premise or hosted solutions might (or might not) be accessed via the cloud, although this is more likely to be a private cloud.
Mint Jutras