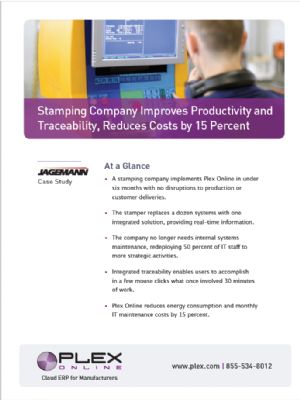 Management
Stamping Company Improves Productivity and Traceability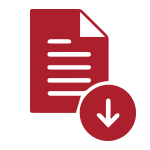 LOG IN TO DOWNLOAD WHITE PAPER
About Jagemann Stamping Company
Meeting challenges is nothing new to Jagemann Stamping Company (JSC), a full-service Wisconsin-based metal fabricator. Like many other suppliers to the automotive industry, JSC has worked hard to remain competitive through technology innovation and continuous improvement.
The implementation of the industry-leading Plex Online ERP system is a case in point.
An Integrated Approach
By replacing its collection of "patched-together" information systems with Plex Online, JSC achieved a number of business goals. Plex Online, a fully integrated Software as a Service (SaaS) ERP solution, enabled the company to reduce its ongoing IT maintenance costs, increase the accessibility of production and business data, improve product quality, increase productivity and inventory visibility, and realign resources to better support its strategic goals. Speedy and efficient implementation practices enabled JSC to implement Plex Online in less than six months with no disruptions to production, customer deliveries, or manufacturing orders. Today Jagemann Stamping is reaping the benefits of a fully integrated, completely accessible system with built-in disaster recovery and real-time information.
Plex, A Rockwell Automation Company