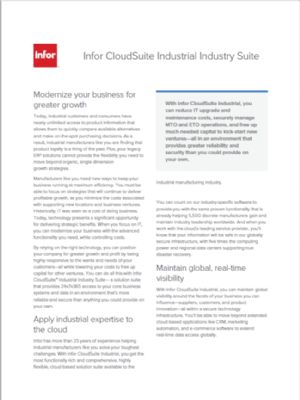 Management
Infor CloudSuite Industrial Industry Suite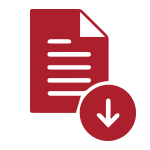 LOG IN TO DOWNLOAD WHITE PAPER
Modernize your business for greater growth
Today, industrial customers and consumers have nearly unlimited access to product information that allows them to quickly compare available alternatives and make on-the-spot purchasing decisions. As a result, industrial manufacturers like you are finding that product loyalty is a thing of the past. Plus, your legacy ERP solutions cannot provide the flexibility you need to move beyond organic, single dimension growth strategies.
Manufacturers like you need new ways to keep your business running at maximum efficiency. You must be able to focus on strategies that will continue to deliver profitable growth, as you minimize the costs associated with supporting new locations and business ventures. Historically, IT was seen as a cost of doing business. Today, technology presents a significant opportunity for delivering strategic benefits. When you focus on IT, you can modernize your business with the advanced functionality you need, while controlling costs.
By relying on the right technology, you can position your company for greater growth and profit by being highly responsive to the wants and needs of your customers—all while lowering your costs to free up capital for other ventures. You can do all this with Infor CloudSuite™ Industrial Industry Suite— a solution suite that provides 24x7x365 access to your core business systems and data in an environment that's more reliable and secure than anything you could provide on your own.
Infor