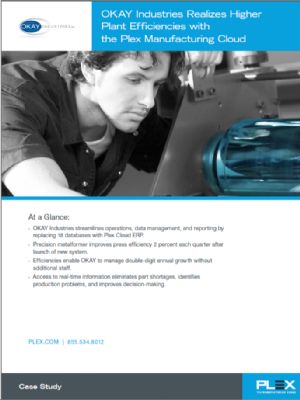 Management
Higher Plant Efficiencies with the Plex Manufacturing Cloud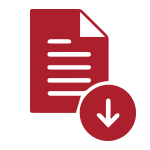 DOWNLOAD WHITE PAPER
About OKAY Industries

OKAY Industries, Inc., is a stamping, machining, and prototyping company
that specializes in complex metal stampings with extremely tight tolerances.
It produces precision parts for medical and surgical devices as well as
components for the defense and firearms industries. It also produces other
highly sophisticated parts for specialty, industrial, and automotive markets.
OKAY's customers require precision, and they expect perfection. There is no
room for error in their applications.

OKAY nurtures a culture of continuous improvement. It has achieved its ISO
certification and has had to comply with new ISO standards and requirements.

Over time, OKAY's management found itself with 18 different databases which
integrated with each other but not with the company's UNIX server. It was
difficult to quickly compile the detailed information management required to
continually improve the operation's efficiency.

The Search Began

"We needed real-time information that was accessible to everyone on the production floor," stresses President Jason Howey at the 100,000-square-foot facility in New Britain, Connecticut. "We wanted one system on one platform that would give us real-time work-in-process information and allow us to analyze production costs down to the minute. The UNIX system was accessed by administrators with terminals, but no one out on the floor could access information."
Plex, A Rockwell Automation Company