Hot off the Press
University of Missouri Professor Promotes Materials of Tomorrow
Wednesday, May 16, 2018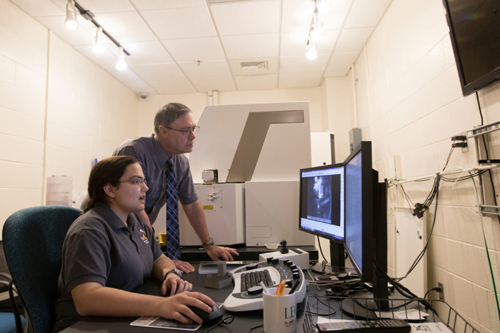 Missouri University professor, Joseph Newkirk, and Myranda Spratt, a Ph.D. student in materials science and engineering, examine images of a stainless steel alloy designed to be lighter than conventional alloys. Photo: Sam O'Keefe/Missouri S&T.
As a boy, Dr. Joseph Newkirk was fascinated by artwork that depicted a sleek, space-age future inhabited by flying cars and robotic servants. Today, the Missouri University of Science and Technology professor of metallurgical engineering remains fascinated by a space-age future as he thinks about such things as what future materials will be needed to transport people to Mars or make robots stronger.
As president of Alpha Sigma Mu, the professional honor society for the materials science and engineering profession, Newkirk has been delivering a series of talks to fellow materials scientists and engineers in hopes of spurring them on to imagine new classes of metals, ceramics and other materials that will help create that not-so-far-fetched future.
"Technology is advancing much faster than are materials," says Newkirk. "What the materials community needs is a clear vision of what we need to turn the latest technological ideas into reality."
For more,
http://news.mst.edu
.
---
Reader Comments
There are no comments posted at this time.
Visit Our Sponsors