Hot off the Press
U.S. Remains Most Attractive Country for Aerospace Manufacturing
Friday, January 10, 2020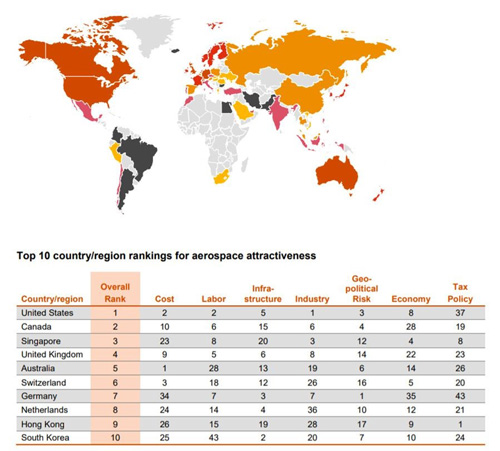 The United States maintained its top spot on PricewaterhouseCoopers' (PwC) aerospace and defense (A&D) manufacturing attractiveness index, while Washington remained the sector's most attractive state for doing business. The consulting firm's annual index ranks countries and states based on cost, economy, infrastructure, labor, industry, tax policy, and geopolitical risk.
The U.S. led with $244 billion of A&D sales in 2018 and $132 billion in exports revenue in 2018, accounting for 9% of overall US exports. Washington State produced 1,400 aircraft and unmanned aerial systems in 2018, with an industry workforce of 136,000. The state produced 90% of commercial aircraft in the US (741) in 2018.
Canada was ranked second, with $18.1 billion in revenue.
Related Enterprise Zones:
Visit Our Sponsors