Hot off the Press
Solar Atmospheres' Customer Installs Second Air Furnace
Thursday, June 6, 2019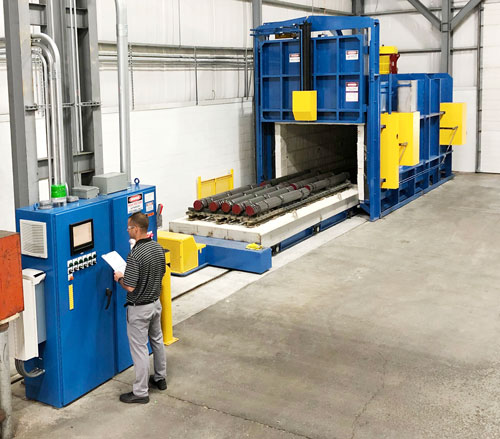 Solar Atmospheres, Hermitage, PA, recently installed a new, 14-ft.-long car bottom air furnace. Surveyed in accordance with AMS2750 Rev E, the furnace is uniform within ±10°F (Class 2). With a working zone measuring 60-in. wide by 54-in. high by 168-in. long, the furnace handles workloads up to 30,000 lb. A maximum operating temperature of 1400°F allows this furnace to accommodate the tempering of large tool steel components, as well as the age-hardening processes of nickel-based alloys and precipitation hardenable stainless steels.
"This new air-tempering furnace will be a good complement to its larger counterpart, a recently installed 20-ft.-long car bottom furnace," says Bob Hill, president of Solar Atmospheres. "Expanding our large air furnace capability will enhance the turnaround for our raw material customers, and is more cost-effective than processing in a vacuum environment."
Related Enterprise Zones:
---
Reader Comments
There are no comments posted at this time.
Visit Our Sponsors