Hot off the Press
Mazda Develops Cold-Stamping Process for 1310-Pa HSS
Tuesday, February 26, 2019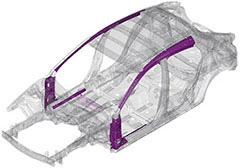 Mazda Motor Corp., via separate R&D projects with Nippon Steel & Sumitomo Metal Corp. and JFE Steel Corp.,
reports
that it has developed the world's first cold-stamped vehicle-body parts made from 1310-MPa high-strength steel (HSS). The parts, used in Mazda's new-generation Skyactiv-Vehicle architecture, are slated for upcoming models, including the Mazda3.
Until now, explain company officials, cold stamping of vehicle-body structural members has only been possible with 1180-MPa or lower-classed steel, due to the material's formability and the difficulty of ensuring dimensional accuracy after processing. But the company and its partners have developed process conditions that enable cold stamping of 1310-MPa HSS.
---
Reader Comments
There are no comments posted at this time.
Visit Our Sponsors