New Product Article
Mitutoyo America Advances Hardness Testers
Wednesday, March 14, 2018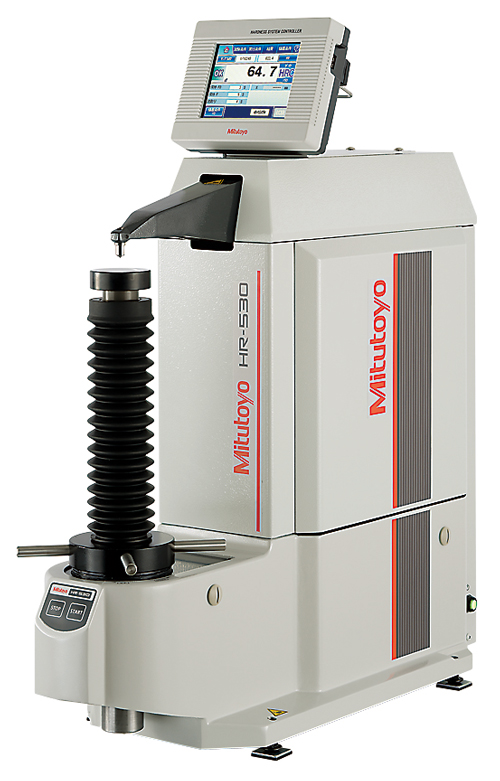 Mitutoyo America Corp., Aurora, IL, has announced the release of the latest Rockwell hardness testers in its HR-530 series: the HR-530 with max. specimen height of 250 mm and depth of 150 mm, and the HR-530L with max. specimen height of 395 mm and depth of 150 mm.
Features and capabilities of the two offerings include:
Inside-ring hardness testing performed without cutting the ring (all models). Minimum diam. is 34 mm, but inside diam. as small as 22 mm also can be tested using the optional 5 mm diamond indenter.
Color touch-screen displays results of statistical calculations and graphic functions, which can be stored as text data. To save space, the touch-panel display can be mounted on top of the tester.
Direct hardness scale selection can be selected with the touch panel. The initial test force and loading force are automatically set in accordance with the selected scale.
Curved-surface compensation and measurement enables testing for hardness of curved surfaces, including round bars and spheres, as well as flat surfaces.
Statistical analysis via the touch screen provides statistical calculation of the maximum value, minimum value, mean value and standard deviation when analyzing multi-point test results.
Graphic display of statistical analysis results, including maximum and minimum values mean value and graphic display of X-R control charts and histograms required for hardness evaluation.
Measurement with a nose-indenter shaft enables measurement on a flat-top and inside surfaces of specimens.
Continuous measurement function, when testing multiple workpieces with the same height, is possible by pressing the foot switch or the start button.

For more,
www.mitutoyo.com
.
---
Reader Comments
There are no comments posted at this time.
Visit Our Sponsors