Hot off the Press
Senator Joins PMA and Connecticut's Community Colleges to Announce Manufacturing Scholarships
Friday, October 26, 2018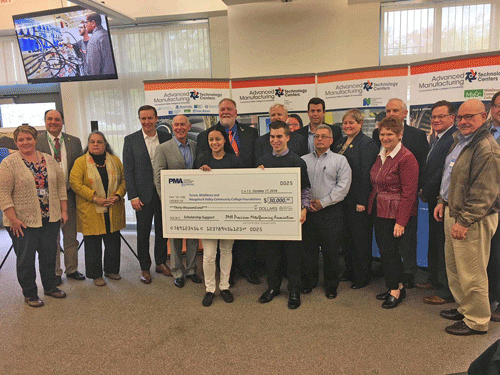 U.S. Senator Chris Murphy (D-CT) joined Connecticut's community colleges, their foundations, and the Precision Metalforming Association (PMA) on October 17 to announce the establishment of the
Precision Metalforming Association Scholarship for Tunxis (TCC), Middlesex (MxCC) and Naugatuck Valley Community College (NVCC) students studying precision manufacturing.
The announcement was made at Tunxis Community College in Farmington, CT.
The Precision Metalforming Association (PMA) has seeded the PMA Scholarship with an initial $30,000 donation, with $10,000 each allocated to TCC, MxCC, and NVCC, for the annual scholarship fund. The donation supports students in financial need and in good academic standing. Children or spouses of an individual employed by a PMA member company also are eligible for the scholarship. The annual $1,500 PMA scholarship will be distributed to TCC,
MxCC, and NVCC students beginning in fall of 2019 and may be renewed annually.
"Advanced manufacturing employers are telling us that they need skilled workers —as many as 25,000 skilled workers over the next decade — and the Advanced Manufacturing Technology Centers at the state's community colleges are up to the challenge. The Precision Metalforming Association Scholarship will help advance our goal as Connecticut's manufacturing pipeline," says Mark Ojakian, president, Connecticut State Colleges and Universities (CSCU).
---
Reader Comments
There are no comments posted at this time.
Visit Our Sponsors