MF Xtra
June 14, 2017
Wednesday, June 14, 2017
If you are having trouble viewing this email, view it online
Follow Us on

Twitter | LinkedIn | Facebook | MetalFormingMagazine.com
Manufacturing Continues to Deliver Big Regional Benefits

"All but 18 of the country's 70 largest metropolitan regions have seen an uptick in industrial employment since 2011," reads an article, "Where Manufacturing is Thriving in the U.S.," at Forbes.com. Citing a paper from the Center of Opportunity Urbanism, the article notes that, "although the share of industrial jobs has shrunken from 10.5 percent of all nonfarm employment in 2005 to 8.5 percent today, manufacturing continues to have an outsized influence on regional economies."

Much of that has to do with industrial productivity gains since 2001, nearly twice as much as the economy-wide average, according to article. In addition, manufacturing generates $1.40 in economic activity for every dollar invested, "far greater than the multiplier generated by business services, information, retail trade or finance."

So where is U.S. manufacturing thriving, according to Forbes? Find out here.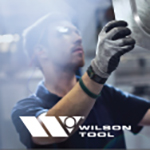 Punch Press Tooling that Outperforms

Wilson Tool's punching division drives the industry with high levels of service, quality and innovation. Offering a wide variety of tooling styles including; thick turret, fab/thin turret, Trumpf®, Wiedemann® and Salvagnini®. In addition to standard designs, Wilson Tool is known for solving the most challenging fabrication issues through special designs.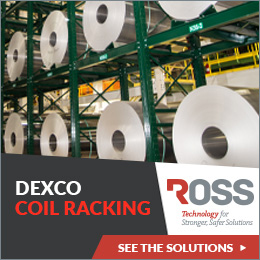 The Strongest, Safest, Most Durable Coil Racking on the Market

Dexco Coil Racks get your sheet coil off the floor and out of harm's way with generous vertical storage capacity on high-strength shelves with secure customized cradles. Take advantage of organized, easy access, increased floor space, reduced material damage, and improved worker safety with Dexco Coil Racks.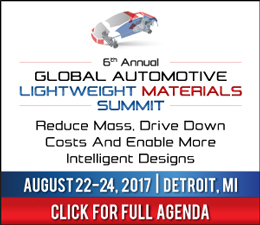 6th Global Automotive Lightweight Materials Detroit Summit 2017

GALM Detroit, The Largest Automotive Lightweight Series Is Back Featuring Ford, Tata Motors, Hyundai, Volvo, GM, FCA & More. Unveiling The Latest Material Strategies Including Aluminium, Steels, Magnesium & More, And New Solutions For Mixed Material Joining, Forming & Welding. Join Us In Detroit In August.
New SC Stamping Plant to Supply BMW

On June 5, officials cut the ribbon to officially open Tower International's $75 million 264,000-square-foot plant in Fountain Inn, SC, and slated to produce metal components and assemblies for BMW. The plant is anchored by two Aida 2000-ton presses, according to an article in the Upstate Business Journal, which provides additional details on the opening.
Reshoring Initiative and PMA Launch National Reshoring Award

The Reshoring Initiative, an organization that encourages companies to bring manufacturing jobs back to the United States, and the Precision Metalforming Association (PMA) have launched the National Reshoring Award for 2017.

The award will honor companies—one buyer and one supplier—that have successfully reshored parts or tooling made primarily by metalforming, fabricating or machining between January 1, 2012, and August 1, 2017. Applications must be submitted by August 1, and the award will be presented on September 28 at the PMA-hosted Sourcing Solutions procurement program in Milwaukee, WI.

To apply or to find out more, visit www.pma.org/sourcingsolutions or www.reshorenow.org.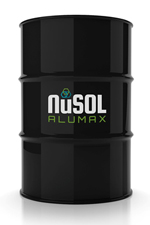 Once in a Generation Technology

NuSol Alumax Preformed Emulsion
Increased tool life
Non-chlorinated
Machines non-ferrous and exotic metals Resistant to "Monday Morning Odors"
Tramp oil rejection
Operator safe
High productivity rates -Minimal downtime
Clean running
Excellent hard water stability
Low foaming
Corrosion protection

Alumitech—Cutting, Forming and Joining Aluminum—Secrets to Success

MetalForming magazine is proud to be hosting Alumitech, a brand new program specifically created for metalformers and fabricators to discover the best practices to successfully cut, form and weld aluminum sheet and plate. This one-day program, taking place in Cleveland, OH, will address topics such as lubrication, tooling specification, and welding procedures and techniques. For the complete program agenda, list of presenters, hotel details and online registration, view the event webpage.
June 2017


Subscribe | Become a Sponsor | Media Kit
Lubricant Labeling—Out with MSDS
...and in with new safety datasheets. As of June 1, 2016, OSHA requires use of a new 16-part international communication protocol that provides for a uniform, user-friendly method for identifying chemical hazards and specifying protective measures and safety precautions.
Combo Machines: It's All About Throughput
Punching machines and laser cutters each bring advantages to the table and even more advantages when punching and cutting on the same table.
Upcoming Issues
July: PMA 75th Anniversary Special Section, Automation/Controls, Plasma Cutting
August: Mechanical Presses-Servo Special Section, Press Feeds, Laser Cutting
September: Quick Die Change, Hydraulic Presses, Forming
MetalForming : Jobs



Connecting job seekers and employers in the metal stamping, forming, fabricating and tool & die industries.

Press Operator (OH)


The Reserves Network
See also: Impax Tooling Solutions, A Div. of Wilson Tool International, Heyco Metals, Inc., Dexco Industrial Storage, Chemtool Incorporated
Visit Our Sponsors