MF Xtra
October 11, 2017
Wednesday, October 11, 2017
If you are having trouble viewing this email, view it online
Follow Us on

Twitter | LinkedIn | Facebook | MetalFormingMagazine.com
Forecast Puts Industrial-Control and Factory-Automation Market Near $240 Billion by 2023

The industrial control and factory automation market are expected to jump from $155.26 billion in 2017 to $239.11 billion by 2023, for a compound annual growth rate 7.4 percent. This according to the Industrial Control and Factory Automation Market – Global Forecast report by Research and Markets. Prominent trends driving the surge, according to the report, include extensive use of enabling technologies in manufacturing, continuous innovation in industrial robotics, the need for mass production and a connected supply chain, and government initiatives toward the adoption of industrial automation. The report predicts that the Industrial Internet of Things (IIoT) will hold the largest share of enabling technology by 2023. With that in mind, be sure to mark your calendars now for April 18, 2018, when MetalForming magazine will hold its IoT for Metalformers and Fabricators event in Nashville, TN.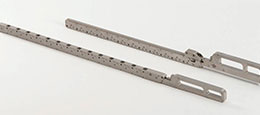 PFA Makes Die Positioning Easy

PFA Mechanical Die Lifters are actuated by hand to the lifted position prior to die insertion and then released to lower the die. They are portable and can be taken from press to press. These units can be used in multiple presses, greatly reducing QDC equipment costs.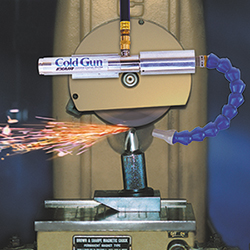 Machining Without Coolant

Replace messy mist systems and improve dry machining with clean, cold air! EXAIR's Cold Gun Aircoolant System improves tolerances, tool life and production rates by cooling with 20°F air. The Cold Gun is ideal for tool sharpening, drill and cutter grinding, milling, band sawing, more.

Hot Off the Press



The authority on late-breaking metalforming news. Stay ahead of the curve!

Today's News


Hilma Quick Die Change Systems

Hilma offers hydraulic quick die change products with great clamping force control. Experience less downtime, and quickly clamp dies of many shapes, sizes and weights. Hilma systems permit safe, rapid change-over to new production lots. Visit our online catalog now at hilma-usa.com.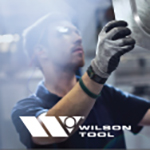 Punch Press Tooling that Outperforms

Wilson Tool's punching division drives the industry with high levels of service, quality and innovation. Offering a wide variety of tooling styles including; thick turret, fab/thin turret, Trumpf®, Wiedemann® and Salvagnini®. In addition to standard designs, Wilson Tool is known for solving the most challenging fabrication issues through special designs.
Robotic Industries Association Allies with OSHA, NIOSH

The Robotic Industries Association (RIA) signed an alliance partnership with the Occupational Safety and Health Administration (OSHA) and the National Institute for Occupational Safety and Health (NIOSH), with the OSHA/NIOSH/RIA alliance focusing on communication and education about best practices in robot safety.

"This alliance with OSHA and NIOSH will help us to continue advancing worker safety as more robots enter the workplace," says RIA President Jeff Burnstein. The goals of the alliance are enhancing technical expertise about robotics within OSHA and NIOSH; improving awareness of workplace hazards associated with traditional industrial robots and the emerging technology of human robot collaboration (HRC) installations and systems; and identifying research for reducing workplace hazards.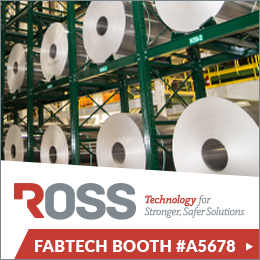 See the strongest, safest, most durable coil racking at FabTech

Dexco Coil Racks get your sheet coil off the floor and out of harm's way with generous vertical storage capacity on high-strength shelves with secure customized cradles. Take advantage of organized, easy access, increased floor space, reduced material damage, and improved worker safety with Dexco Coil Racks.




October 2017


Subscribe | Become a Sponsor | Media Kit

FABTECH Preview

Take a look at the sessions and exhibitors, then make plans to be in Chicago November 6-9.

Difficult Welds?

Advancements in automation are shifting the paradigm.

Upcoming Issues
November: Mechanical Presses, Controls, Women of Excellence Awards

December: PMA Awards of Excellence, Automation, Forming, Cutting

January: Servo Technology, Laser Cutting, IoT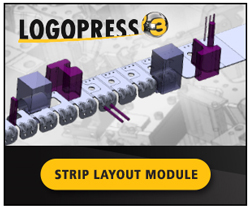 Logopress3 Strip Layout Module

Logopress3's strip layout module can be used for both progressive dies and transfer dies. It allows quick modeling of the true solid 3D strip in a very easy/logical way. It can be started from a blank or dumb imported file. Any kind of parts, even those with non-constant thickness are manageable. www.LogoPress3.com
IoT for Metalformers and Fabricators

April 18-19, 2018, Nashville, TN
MetalForming magazine is proud to deliver what metalformers and fabricators need to know to successfully leverage emerging IoT (Internet of Things) technology. This two-day program in Nashville, TN, allows engineers and managers the opportunity to network with peers and connect with leading suppliers of software, sensors and controls to discuss IoT and plant-floor connectivity.
MetalForming : Jobs



Connecting job seekers and employers in the metal stamping, forming, fabricating and tool & die industries.

Stamping Technical Training Consultant


Forming Technologies Incorporated
See also: PFA, Inc., Accurate Die Design Software, Inc., Balluff, Inc., HILMA Div. of Carr Lane Roemheld, Impax Tooling Solutions, A Div. of Wilson Tool International, Dexco Industrial Storage, LOGOPRESS
Visit Our Sponsors