Articles
Automating Flow via Robots
Thursday, April 25, 2019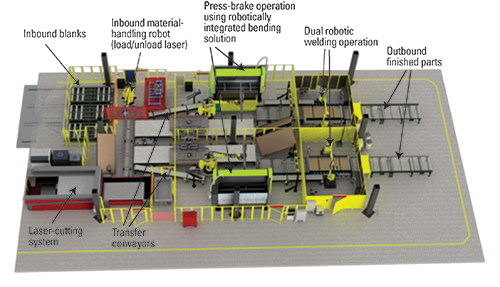 From start to end, this aerial view of the automated cell at Hytrol begins with inbound material handling (upper left) to outbound finished large parts (bottom right).

Virtually all fabricators share the same goals when it comes to automation: reduce costs, improve efficiency, offset the labor shortage, and improve safety and ergonomics. How fabricators get there varies, though integrated robotic solutions offer clear paths forward for large and small companies alike. The prime objective is addressing a range of factors: floor space, throughput, flow, part size, volume, takt time and more.

By addressing these factors early on when working with a robotic integrator, fabricators reap the benefits of systems customized to meet their individual needs, explains Chris Poole, segment manager-fabrication for Acieta, headquartered in Waukesha, WI, and Council Bluffs, IA. "My advice to fabricators," he says: "Look around your business, and if you see any operations that would benefit from robotic tending, know that cost-effective solutions exist."

As the first company outside of General Motors to integrate Fanuc robotic arms 36 years ago, Acieta's fabrication business is driven by custom robotic part-handling installations for small-to-large-volume metal fabricators.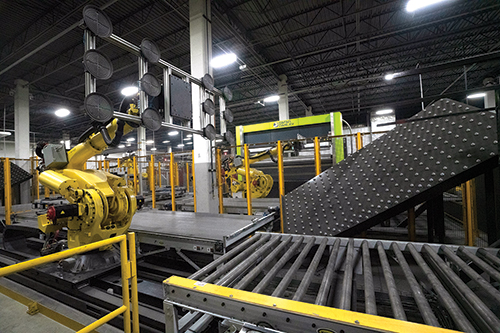 Gripper in perch position waits for raw material to enter the Hytrol automated cell on the conveyor. Once in the cell, a vacuum-based gripper system securely picks the raw material, placing it into the angled qualifying regrip stand.
"We provide the various inbound/ outbound methods from pallets or carts to conveyors for material handling, with our robots facilitating the transfer of materials to press brakes, weld cells and other related processes. The industry is moving toward automating the automation," Poole explains. Acieta's robotically integrated bending solution (RIBS) serves as an example. The RIBS cell features a robotic arm outfitted with an ATI tool changer that presents parts to a brake, also providing a method for changing the press-brake tooling automatically.
Successful integration of robotics in an automated system requires a thorough understanding of a fabricator's needs, says Poole. "It's all about providing whatever suits the plant layout, size of parts produced, number of changeovers, and takt time," he says, "because you don't want situations where too much automation outpaces production capability."
Two examples of automation successes by Acieta follow.
Automation Attraction
AA Precision Tooling, a Blooming Prairie, MN-based maker of various small parts such as wheel spindles and shafts, recently attracted five new customers simply because they learned of the company's use of automation. According to owner BJ Shrank, his company's gross output rose 60 percent in the first 12 months after commissioning an Acieta automation system. The new system enables the company to run milling and turning machines virtually unattended 24/7 using robot load/unload. As for the reaction from his employees, Shrank says that the automation makes them feel empowered. "Instead of being machine operators, our employees now are cell operators, monitoring the whole system and operation."
In addition to the new business mentioned earlier, Shrank says that work orders from existing customers have increased since they "know that they can rely on the quality, consistency and on-time delivery of the components produced at AA Precision due to its commitment to state-of-the-art factory automation."
Overcoming an Expansion Roadblock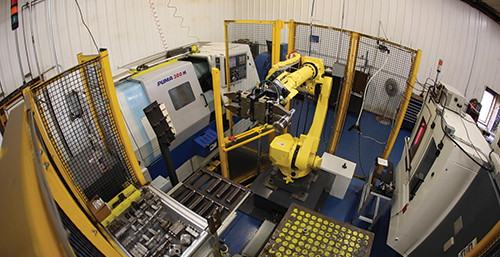 Automation system at AA Precision enables the company to run milling and turning machines virtually unattended 24/7 using robotic load/unload.
When Hytrol, a 72-yr.-old Jonesboro, AR-based material-handling systems manufacturer with more than 1000 employees, hit an expansion roadblock due to an industry-wide labor shortage combined with the area's three-percent unemployment rate, it recognized the solutions that automation provides. Today, the company's newly expanded 660,000-sq.-ft. manufacturing facility includes an automation cell with a 2 by 4-m Amada 4K fiber laser cutting machine, two 220T Safran press brakes, two Miller gas-metal-arc welding machines, seven Fanuc robots, and Hytrol conveyors that transfer fabricated parts weighing as much as 400 lb.
"We evaluated Hytrol's operations and identified a custom automation solution to help maintain its reputation as a worldclass material-handling solutions provider while expanding operations to meet increasing demand," says Poole. The result of the Hytrol/ Acieta collaboration is a fully remodeled shop floor that helped increase production capacity by 50 percent while reducing manufacturing floor space by 80 percent, from 30,000 to 6000 sq. ft.
Before Hytrol installed the automation, 12 associates were needed to operate the equipment: one laser operator, one folder operator, two press-brake operators, four welders, three pre-kit personnel and one forklift driver. After automation, that number dropped to three, with the other nine now overseeing other parts of the business.
"We've been running the cell for more than six months, and it's made us more competitive," says Todd McClung, Hytrol special projects manager. "Our capacity, measured in terms of feet of conveyor produced daily, went from 300 ft. to 600 ft. Better yet, the increased automation provides us the ability to be more flexible with our production schedule. We are looking forward to taking what we have learned about automation and applying it throughout our facility. We want to do more."
Automation and the New Workforce
"Fabricators are finding that fewer workers want to perform the manual jobs traditionally associated with metal forming," says Poole. "What does the future look like? We're going to continue seeing more in the way of systems integration and with that, a labor pool with more technically advanced employee candidates."
Poole continues: "Companies with advanced automation systems that integrate robotics will continue down the path of greater success as they attract the new workforce. These companies will be viewed by employees as forward-thinking firms with enticing work environments." MF
See also: FANUC America, Inc.
Related Enterprise Zones: Automation
Visit Our Sponsors