Articles
Extreme Welding
Saturday, October 1, 2016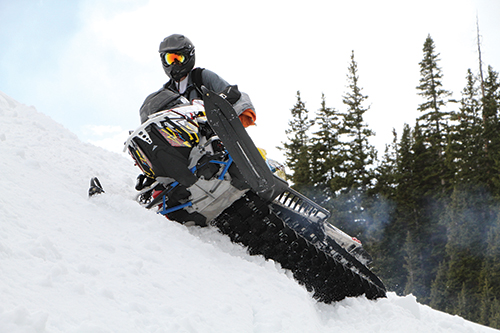 When you craft aftermarket accessories and replacement parts for enthusiasts of power sports, it's a given that your products will take a lot of punishment. Extreme snowmobile riders and racers, for example, want greater control and stability so that they can push their machines to the limit. This means that suspension and other components operate under a great deal of stress, holding design, materials and fabrication to extreme standards.
That's why Jake Hawksworth of Skinz Protective Gear and his team of experienced welders constantly look for new and better welding techniques. Hawks-worth oversees metal fabrication at the Paynesville, MN, production facility for the company that his family launched in Arizona in 1996. As the name implies, the business began as a designer and manufacturer of knee pads, elbow pads and other gear to protect mountain-bike riders, as well as protective bicycle covers, transport cases and the like.
While Skinz continues to serve bike enthusiasts, after moving production to Minnesota in 2004 the company expanded into the snowmobile market and began supplying various components to Yamaha. Soon thereafter it discovered an opportunity to provide aftermarket accessories to meet the needs of snowmobile enthusiasts looking to ratchet up the performance of their rides.
Today, Skinz designs and builds an array of performance parts ranging from A-arms and other front-suspension and chassis components to front and rear bumpers, ergonomic handlebars and rail stiffeners. In short, the company makes anything and everything snowmobilers may want to upgrade their machines.
Production Boost Required New Welding Solution
Skinz performs virtually all metalworking, forming and welding operations in its Minnesota facility, including CNC turning and milling, tube cutting and bending, powder and liquid coating, polishing, deburring, and, of course, welding. But as demand increased for the 800-plus products on the company's to-do list, it became clear that the workforce would be overwhelmed unless Skinz made significant changes to its production process.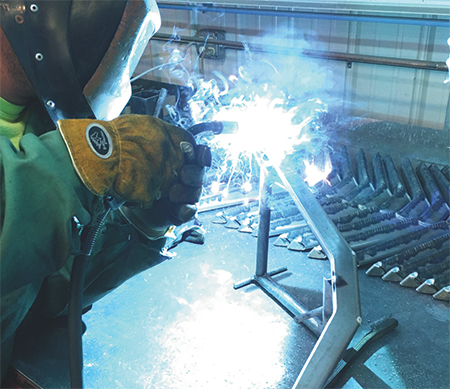 Transfer from GTAW to wave-pulse gas-metal-arc welding (GMAW) welding of aluminum components, which comprises about 90 percent of its welding tasks, has enabled Skinz Protective Gear to cut production time in half and reduce labor costs. "(Our) welders particularly like how easy it is to change settings for different parts, and that the gun is easy to articulate," explains Jake Hawksworth, who runs the company's Paynesville, MN, production facility.
Welding represented a key area of concern as many products, such as front and rear bumpers, are made from thin aluminum material, both sheetmetal and tubing, transformed into complex, angular shapes. Typically, Skinz would gas-tungsten-arc weld (GTAW) these components, requiring a high degree of expertise by seasoned welders spending as long as 20 min. to complete a weld.
"The good news is that our products are well accepted by snowmobilers, so our production demands have grown quickly," says Hawksworth. "Unfortunately, it's not always easy to find additional qualified welders, so it's been a strain on our existing staff. I've been GTA welding for more than 10 years and I know how challenging and time-consuming that process can be. When our welders had to ramp up from making 50 to 1000 or more of a product, we needed to somehow quicken the process while maintaining quality and keeping the welders from burning out."
Wave-Pulse GMAW Quicker to Set Up and Use
One possibility: Switch from GTAW to wave-pulse gas-metal-arc welding (GMAW) of the aluminum components. In the past, Skinz had tried pulsed-GTAW technology but had less-than-satisfactory results, according to Hawksworth. In addition, welders complained that dialing in this process along with maintaining consistent results and managing an awkward-to-use welding torch was difficult and time-consuming.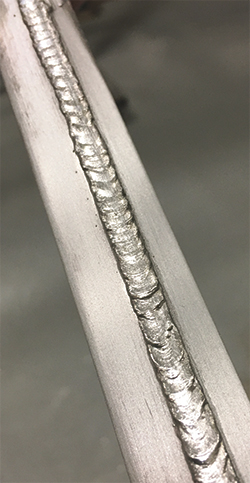 Through the use of pulse-wave gas-metal-arc-welding technology, Skinz has experienced eased setup and high quality when welding aluminum for snowmobile aftermarket parts such as this front bumper.
Mindful of this, Hawksworth took the problem to Brian Henrickson of distributor Minneapolis Oxygen, who recommended an OTC Welbee WB-P400 Pulse GMAW system from Daihen Inc., Tipp City, OH.
"Skinz' parts are too complex and difficult to handle with robotic welding," Henrickson explains, "but the wave-pulse system produces excellent welds that look like the hand-held GTA welds the company was used to, yet are much easier to set up and change. Once the welders discovered the increased speed and ease of this process, they more than doubled their output."
OTC wave-pulse technology debuted in 1982 and today's power supplies and guns enable welders to achieve rapid, spatter-free results based on the wire type, wire diameter and shielding gas used, say Daihen officials. The system, they note, is particularly effective at reducing porosity in aluminum–resulting from a degassing effect created by agitating the weld puddle at low frequencies.
"Moving to this GMAW system for about 90 percent of our welding tasks not only cut production time in half and reduced labor costs, but has been a real morale boost for our welders," explains Hawksworth. "GTAW requires constant attention and can be a slow, tedious process that wears on people when they're trying to keep up with the number of parts we weld every day. The welders particularly like how easy it is to change settings for different parts, and that the gun is easy to articulate. The quality of the welds is unbelievable, whether we're doing butt welds or overlaps, and on inside and outside angles.
"Because of our previous experience with GMAW, we thought that pulse technology was just too finicky to be practical," he continues. "It took a lot of time to dial in for a 3-in. weld on a part that needed 30 in. of various welds, each one of which would need similar adjusting. The OTC system works however and wherever we need it, and the welds look every bit as good as GTAW. We still use GTAW for about 10 percent of our welding work, but the Wave Pulse system is a workhorse that enables us to maintain volume and part quality." MF
Related Enterprise Zones: Welding
---
Reader Comments
Posted by: Pam Lassila on 2/10/2017 12:37:47 PM - URL: http://abfabrications.com.au/contact-us
Welding is so cool! It's actually pretty hard, too. I tried it one time and melted the welder to the metal I was working on! I am always going to hire other people to do it because they actually know what they are doing!
---
Visit Our Sponsors