Articles
Better Software Begets Engineering Capacity
Tuesday, April 1, 2014
If you want to transform your manufacturing company from a commodity parts maker into a full-service provider of highly engineered products, from project inception to final assembly and finishing, consider starting the process by investing in your engineering department. That means that in addition to operating with state-of-the-art manufacturing equipment, fabricators must provide their engineers with the latest-greatest software at the front end, which promises to streamline the engineering and design process.
An engineer at AW Mercer takes parts designed in SolidWorks Professional 3D CAD software and loads them into SigmaNest to create efficient sheet nests. Compared to its previous nesting software, AW Mercer reports a 70-percent improvement in nesting efficiency with SigmaNest.

That's precisely the strategy followed at A.W. Mercer, Boyertown, PA, a fabricator once known primarily for providing sheetmetal wrappers to the HVAC industry, In the last few years, the firm has "completely transitioned into a full-service fabricator," says sales manager Roger Collette. While it has made recent and significant capital investments on the shop floor, a main draw for new customers most certainly are the firm's recent investments made to enhance its sheetmetal-design services.

For example, in 2011 AW Mercer upgraded to SolidWorks Professional, explains engineering manager Glenn Estep, "to increase our capabilities in dynamic part fixturing and in maintaining tight tolerances over large areas of structural steel, tubular steel and sheetmetal fabrications."

"About 25 percent of our time now is spent re-engineering existing work or developing designs for new work," adds Collette. "And lot sizes have shrunk considerably, from a sweet spot of 50 to 200 a few years ago to typically less than 50. That has our engineers working on a higher number of jobs, with smaller run quantities."

New Nesting Software Frees Up Valuable Engineering Time

AW Mercer's rebirth has impacted the company throughout, including a big move into stainless-steel and aluminum fabrication, having previously been a fabricator of mild steel and galvanealled material. Significant enhancements to its shop capabilities center around its skilled crew of 13 AWS-qualified welders. New capital-equipment additions include 100- and 250-kVA resistance-welding machines, and a laser-assisted LVD Strippit Easy-Form-series press brake with in-process bend-angle monitoring and correction.

The equipment joined the existing equipment residing in the 69,000-sq.-ft. production facility including a pair of laser-cutting machines—a 3000-W LVD Strippit and 3500-W Bystronic—and a Beyeler Bystronic 200-ton press brake that features automatic bend-angle compensation. All of this has the firm fit to offer quick turnaround on prototypes, first-article and short-run production, as well as high-volume production, finishing and quality inspection.

Now a designer and fabricator of complex parts and welded assemblies for a range of applications, including material-handling and conveying equipment and specialized HVAC units for railcars, AW Mercer made, in 2011, another significant software investment to supplement its SolidWorks upgrade. It replaced a 6-yr.-old sheetmetal-nesting package with SigmaNest, from SigmaTek, Systems, Cincinnati, OH.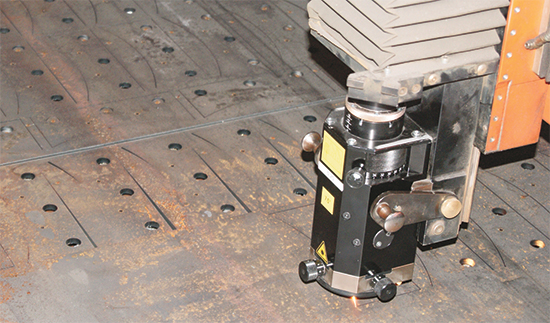 AW Mercer powers several pieces of CNC fabricating equipment with its enhanced nesting software, including this 3500-W laser-cutting machine. In addition to improved material utilization, the latest version of SigmaNest (V 10), according to SigmaTek product manager James Lindsey, includes "tight integration with MRP and other manufacturing and business systems, and integration with SolidWorks Enterprise PDM."

"Our existing nesting software was extremely inefficient," says Estep, "which really became an issue when we looked to ramp up our engineering-services offerings to customers. The sheetmetal nests it automatically created for the lasers, as well as for our CNC turret-punching machines and shears, did not efficiently utilize material. This caused our engineers to spend an inordinate amount of time overriding the nests manually to make them more efficient.

"With SigmaNest," Estep continues, "that manual intervention has disappeared, reducing nesting time by 70 percent or more and freeing up thousands of hours of engineering time per year."

SigmaTek has even made it easier for SolidWorks users to integrate design with manufacturing, with its latest release—Version 10. In SigmaNest Version 10, SolidWorks PDM Integration allows for the import of SolidWorks files directly into SigmaNest without having to first check out the file from the PDM vault.

"With this integration," says SigmaTek northeast regional sales manager Ryan Lustig, "SigmaNest accesses the design vault and checks out files through the importing process. This streamlines the design-to-manufacturing process for users, while ensuring they can keep their files secure and current."

One Stand-Out Project

AW Mercer general manager Tim Meade recalls one specific nesting project that he used to convince corporate management that the firm had quickly recouped its investment in SigmaNest.

"We had to set up and develop a large order for an HVAC railcar project," recalls Meade, "that comprised 400 unique part numbers, all laser cut from seven different combinations of material type and thickness. Nesting one complete batch of parts with our previous software's automatic nesting routine laid out the job on 265 sheets. It took 40 man-hours from our engineering team to whittle that down to 200 sheets. Now, using SigmaNest we lay out the job on 200 sheets in about 8 hr. This frees up our engineers to focus on more productive and important tasks."

Where do the firm's engineers see the difference in nest efficiency from the old software to the new?

"In addition to intuitively combining parts more efficiently on the sheets to minimize web size," Estep says, "SigmaNest better-recognizes part features or openings where other parts can be squeezed in. The other software often failed to recognize openings and cutouts in parts where additional parts could fit.

"SigmaNest also stores information on unique part requirements," Estep continues, "such as grain direction—an important parameter with highly polished stainless steel. If we need to nest these critical parts in one specific orientation on a sheet, SigmaNest makes quick and reliable work of that. The previous software required manual intervention."

The End Justifies the Means

"In the end, since upgrading our nesting efficiency we've been able to ramp up our design services," concludes Collette. "With engineers freed up to offer expertise to new as well as existing customers, we're better able to provide them with optimum fabrication solutions, in a timely manner.

"And, when we go to quote new work we can rely on the engineering team to provide their services, whether it's design or actual creation of nests to estimate materials requirements, faster than ever. This contributes to our dramatic reduction in lead time, from an average of 20 to 25 days before to 15 to 20 days now, and in some cases as little as 10 days from quote to shipment."

MF
See also: LVD-Strippit, Inc., Bystronic Inc., SigmaTEK Systems, LLC
Related Enterprise Zones: Fabrication, Software
---
Reader Comments
Posted by: Kim on 3/27/2017 10:04:43 AM - URL: http://pin-up.com.ua/index.php/component/k2/itemlist/user/1280
What's up to every single one, it's truly a nice for me to pay a visit this web site, it contains helpful Information.
---
Visit Our Sponsors