Articles
High-Performance Nesting
Sunday, December 1, 2013
From 2006 to 2007, MPE Inc., Milwaukee, WI (with a second plant in Mexico), saw sales of its medical carts and tables, and similar fabricated-metal products and assemblies climb by nearly 10 percent. Impressive enough, but I really sat up and took notice when I learned that over that same time period its material costs dropped by $300,000.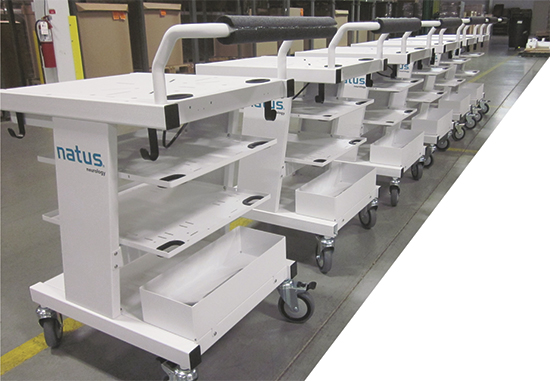 MPE manufactures an array of custom high-value carts, consoles and other similar products primarily for the medical industry. Quick-response manufacturing is helping the firm manage the growing trend by medical customers to hold less inventory, meaning average order quantities have shrunk from the hundreds to a lean 20 to 50.

How can a fabricator increase sales while reducing material costs? "More efficient material utilization," explains MPE's Jason Grundel, manager, industrial engineering. "Better nesting—which also led to a 15-percent decrease in the average run time of our sheets—has increased our material utilization by 30 to 40 percent."

Specifically, material utilization on MPE's combination turret/laser machines has jumped from 50 percent to 85 percent, and on stand-alone laser-cutting machines from 60 percent to as high as 95 percent. The secret to success: the switch from static nesting on separate software packages for its various machine models, to dynamic nesting with Jetcam software.

Just in Time Enters Another Dimension

MPE balances two types of customers and orders—it serves as a one-stop shop for OEMs looking for fabricating and assembly operations, and also as a job-shop supplier of parts. The medical industry dominates, comprising 70 to 80 percent of its load, although that percentage has been shrinking in recent years as the firm seeks to diversify. Diversification has brought customers such as electronic and telecommunication OEMs.

While Grundel and his fellow associates are sleeping better these days due to more efficient nesting, there are a few challenges that keep their heads spinning.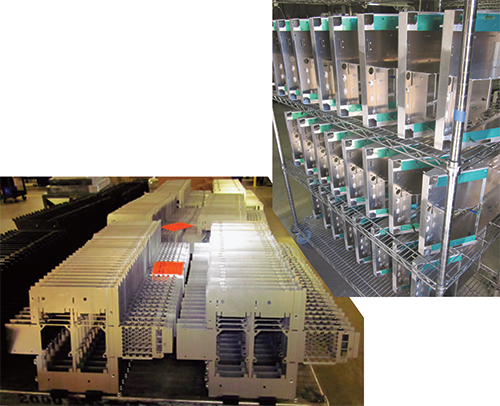 MPE processes orders for fabricated sheetmetal parts and assemblies at any of six CNC machines—three Mitsubishi laser-cutting machines and three Amada punch-laser combination machines. Forming occurs at an array of press brakes, from 20 to 275 ton, including an Amada Astro robotic-bending cell.

"The trend in medical is for customers to hold less inventory," says MPE vp of engineering, David Bongard. "They don't order until they have orders from their customers. We've seen this really tighten up in the last 4 to 5 years, due to changes in the medical industry."

In turn, MPE's average order quantity for medical carts, tables and the like has shrunk to a lean 20 to 50, down from average order quantities of several hundred just a few years ago. Here's where manufacturing speed and the firm's push toward quick-response manufacturing (QRM) enters the equation—both initiatives fueled in part by Jetcam.

"We started our QRM journey in August 2013," says Grundel, "in an effort to ensure jobs move through the shop consistently, without delay. We want to eliminate idle time so that when a job comes in, we enter the order, set it up and release it to the shop, all within a day or two."

Cross-Functional QRM Team

MPE created a cross-functional QRM team that includes two that can use Jetcam to produce sheet nests and send them to the floor for processing. Overall the company employs a dozen associates trained to use the software.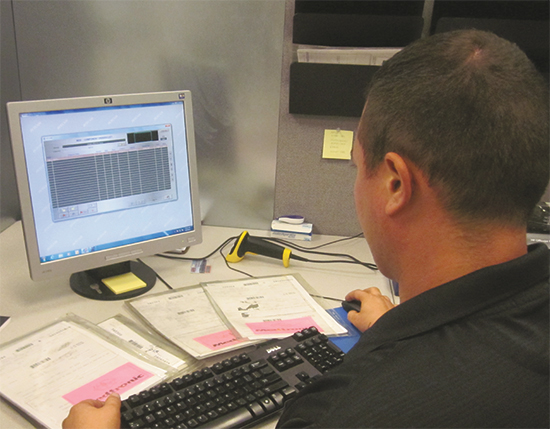 Industrial engineers at MPE's Milwaukee headquarters facility develop tooled-up part profiles for all of the firm's CNC machines, including those at its Mexican plant, using Jetcam Expert Premium software.

Processing occurs at any of six CNC machines —three Mitsubishi laser-cutting machines and three Amada punch-laser combination machines —the newest of which is an Amada EMLK punch-laser combo added in 2011. The industrial engineers at the Milwaukee headquarters also develop tooled-up part files for the firm's laser-cutting and turret-punch presses at its Mexican plant in Apodaca, Nuevo Leon.

QRM not only pays dividends within the walls of MPE; its customers see the difference as well. Example: In February 2013, the firm earned Global Supplier of the Year status for 2012 by its customer Draeger Corp., selected from a pool of 3000 global vendors. Recognition came due to MPE's "ability to take complexity out of the supply chain and manufacturing processes along with its robust quality system and sound processes," said Adam Nesbitt, Draeger director of strategic sourcing.

Faster, and Easier to Learn

MPE is a good case study in dynamic nesting—combining parts from more than one job, of like material type and thickness, onto shared sheet nests. This practice, compared to static nesting of only one part design onto a sheet, contributes as much as anything else to improved material utilization, and to fewer concerns about inventory management.

"Before we brought in Jetcam (supplied by reseller NestOne Solutions, Kansas City, MO)," recalls Grundel, "we were using static nesting. Our production team would take the part designs generated by our engineering group and fit as many of the parts onto a sheet as possible—regardless of actual order quantity. So, we'd either have to inventory leftovers or ask our customers to take them. Now, the production team using dynamic nesting with Jetcam can combine parts from multiple jobs and more efficiently use the material."

The MPE engineering team "tools-up" each individual piece part, Grundel says, because "we have a lot of custom turret-press tools in our inventory specially designed for our customers' unique part features. These include special shapes, embosses, forming features, lances and the like. We want to ensure that the parts are processed the same every time they run; we don't want to leave that process design to chance."

Once the process plan for contouring the parts (typically done by laser cutting) and punching interior part features is complete, the program is released to the production team for nesting. Here's where the user friendliness of Jetcam really comes into play. MPE employs three floating seats of the software, shared by 12 users trained to use it—some for part programming only, others for programming and nesting. The QRM team includes two Jetcam users.

"While programming with our previous software required numerous time-consuming steps and a lot of button-pushing for every part program and nest, over several hours, with Jetcam we can get programs done in 15 to 30 min.," Grundel says. "That programming efficiency makes it easier for us to train our people to use the software, and allows us to afford the luxury of having so many employees capable of using it. And, since we can create new programs in just a fraction of the time it used to take, our employees, particularly those in our industrial-engineering group, are freed up to perform other value-added tasks."

Software Evolution

All manufacturing software products evolve over time, often based on user recommendations, and Jetcam is no exception. One such recommendation from Grundel and his team, provided via NestOne, involved the spacing of parts on a nest to accommodate the width of the punching tool.

"Previously, if a programmer didn't accurately account for tool width when laying out a sheet nest, parts potentially could overlap," says Grundel. "Now, the software captures data related to the size of the tool being used to create part features, and automatically makes the required adjustments to part spacing."

As another example of MPE feedback to NestOne resulting in a Jetcam software update, Grundel again stresses the extraordinary number of special tools the firm inventories for punching unique part features. "Users can instruct Jetcam to automatically assign specific tools to specific tasks—unique part features, for example. Before, that function only worked with standard tools, so if we wanted to assign our custom tools to specific part features, we had to do that manually. Based on our feedback to NestOne, Jetcam updated the software so that it now automatically clears a any tool setup it might develop to create a part and reassigns one or more of our special tools to do the work, based on our programmed preferences."

Last but not least, Grundel describes another MPE-generated idea implemented by Jetcam to improve programming efficiency.

"We asked their programmers to make it easier to tool-up the same parts to run on multiple machines," he says, "to give us more flexibility without having to apply tools twice, for two different punching machines. In response, they added a feature that allows us to copy the tools used in one machine program over to the program developed for a second machine—a huge timesaver."

MF
See also: Nest One Solutions, Amada North America, Inc, JETCAM USA Inc.
Related Enterprise Zones: Fabrication, Software
---
Reader Comments
Posted by: Ellsype on 12/17/2018 4:36:42 PM - URL: http://mdsmeds.com
Buying real worldwide isotretinoin best website mastercard Cialis Ha Funzionato propecia resultados Acheter Cialis Brand Amoxicillin And Leprosy Worldwide Bentyl Legally In Us Vast Viagra Delivery Real Cod Only Stendra No Prescription Medication Effet Viagra Cialis cheapest generic levitra Real Levaquin Lebact Bacterial Infections Cod Accepted Us Kamagra Uk Viagra cialis Low Cost Levrita Sublingual Viagra Pro Generic Online Comprare Levitra 10 Mg Synthroid Overnight Delivery priligy tratamiento Tamoxifen Buy Online Comprar Cialis En Farmacias De Madrid Doxycycline And Cephalexin
---
Posted by: charles niemotka on 12/13/2013 10:06:17 AM
I get what MPE INC has accomlished however the question I have is "how does dynamic nesting work into an "erp" system ?. Production orders in a ERP stsyem are created for bom's and routes to a specified quantity per order. The routes and bom's have cycle time and material allocated to a specific order. Otherwords how is the customer charged for material and labor ???
---
Posted by: hugo on 12/11/2013 9:10:01 PM - URL: www.tongyu-corp.com
good products !
---
Visit Our Sponsors