Articles
Innovative Conveying Solutions
Friday, June 1, 2012
Every new-press launch faces this basic challenge: How to effectively and reliably convey parts and scrap out of the press at maximum possible press speed without inhibiting the ability to execute quick changeovers and without compromising safety. Within the confines of the sheetmetal division at Miller Electric Mfg. Co., Appleton, WI, engineers planning installation of a new 400-ton mechanical press faced this challenge head-on. With the help of stamping-system integrator TCR, Wisconsin Rapids, WI, the firm has specified and engineered a unique part- and scrap-out solution for a new press line slated to enter production in early July 2012.
The impetus for the mechanical-press project comes from the desire within the Miller Electric sheetmetal shop to add capacity while also allow the shop to satisfy from its internal customers—some 20 welding-machine assembly-lines. "Our customers are als looking for us to provide more frequent deliveries of smaller part batches. It's all part of a longer-term lean strategy," says Miller Electric manufacturing engineer Adam Utecht.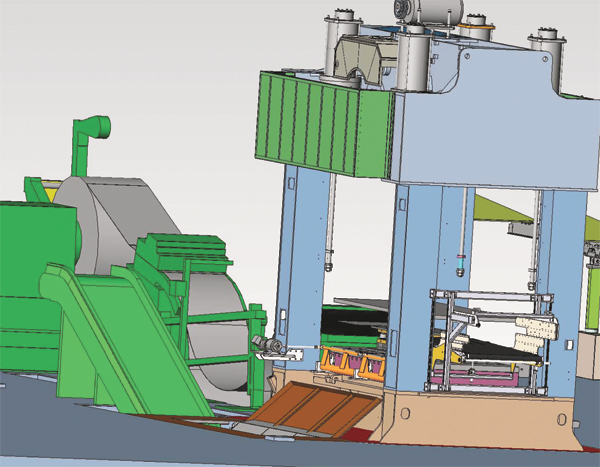 Miller Electric's new press line features innovative scrap and part-out conveying solutions. Scrap will be funneled off the rear of the press (left) through a trap door in the floor, where a steel hinged-belt cleated conveyor awaits to move scrap a from the press and then up and out of the floor to a bin. The job of moving stamped parts out of the press will fall to a belted conveyor (right) that includes imbedded magnets in the drop area to avoid part slippage and allow rapid conveyor acceleration. To allow quick changeovers, the conveyor can slide in and out to accommodate a range of die sizes, and its tail pulley can easily (and tool-free) be raised and lowered to match die height.

The goal with the new mechanical-press line is to boost press speed from a maximum of 17 strokes/min. capable when running progressive dies on the shop's existing 440-ton hydraulic press, to as much as 60 strokes/min. on smaller bracketry with the new mechanical press, a 400-ton Aida straightside. Other than a smaller 175-ton hydraulic press also capable of running progressive dies, the rest of the stampings coming from the shop run on a set of four hand-transfer hydraulic presses.

Uptime and Throughput Maxed Out

While the significant boost in press speed alone is a worthy goal for any shop, Utecht and his project team also sought to minimize changeover time and maximize press uptime. Here's where clever conveying-system design came into play.

"We knew that the move from hydraulic to mechanical, and the resulting big jump in press speed, would generate a lot more scrap at a very high rate," says Utecht. "With the slower hydraulic presses, we have to shut down the presses for 15 min. or so a few times every shift to change scrap bins out."

Running at a maximum of 17 strokes/min. (and maybe half that rate with manual-transfer operations), scrap bins don't fill up all that often at Miller Electric. But once its new mechanical press gets up and running, Utecht expects the bins to fill quickly. Stopping the press to empty scrap bins is not an option.

"Also, we're installing the line where we have 10,000 lb. of crane capacity," Utecht says, "more than double the 4000-lb. capacity available where our two progressive-die hydraulic presses currently operate. The added crane capacity will allow us to run much larger coils of steel and eliminate a lot of coil changes and associated press downtime. By also eliminating downtime to change scrap bins, we'll significantly optimize press uptime and throughput."

Do Not Stop the Press

The scrap-handling solution developed by TCR for Miller Electric's new press will funnel scrap off the rear of the press (see the CAD-model screen capture) through a trap door in the floor where a steel hinged-belt cleated conveyor awaits. The conveyor, which sits in a 3-ft.-deep pit, will move scrap a from the press and then up and out of the floor to a scrap bin. The floor section of the conveyor acts as an accumulator, which will allow the press to continue to run while the conveyor pauses momentarily each time a fork-truck driver exchanges scrap bins.

To move scrap from under the die and out onto the conveyor, TCR specified a mechanical press-mounted scrap shaker (a Shuffle Drive unit from the Press Room Techniques division of Mayfran) driven by an electric motor. As explained by TCR president Todd Wenzel, "compared to air shakers that employ linear back-and-forth motion, the Shuffle Drive creates rotary motion, rocking the crossbar on large pillow-block bearings of UHMW plastic that minimizes noise levels. And, the trays attach without the use of tools, minimizing setup time."

Another benefit of the Shuffle Drive, says Wenzel, is its crossbar-shaft design that isolates off-center loading from the scrap trays a from the motor. "As a result," says Wenzel, "all of our customers using the shakers experience very few if any maintenance issues."

Flexible Part-Out Conveyor

The job of moving stamped parts out of the press falls to a 42-in.-wide by 96-in.-long belted conveyor from QC Industries, rated to 233 ft./min. The conveyor was specified wider than the press's Coe feed line "to handle larger stampings such as case wrappers and doors, and so that the conveyor would not be a bottleneck for future parts," says Wenzel. Conveyor features include a cut-resistant top, a stainless-steel frame and imbedded magnets in the drop area to avoid part slippage and allow rapid conveyor acceleration for speedy part removal.

Flexibility is key to the custom design of the conveyor setup, to ensure quick changeover while accommodating Miller Electric's wide range of die sizes and shut height. "Using the press to stamp everything from small brackets to large wrappers and door panels," says Miller Electric designer/ drafter Jim Dimpfl, "we'll run some 20 dies through the new press ranging from 22 by 34 in. all the to 36 by 86 in. And shut height will vary from 12 to 17 in."

To allow press-setup technicians to quickly change the line over, TCR engineered the conveyor's mounting system to allow it to slide out of the bolster area to accommodate longer dies while allowing it to extend into the die area to reach shorter tools. The mount also incorporates a pivoting mechanism so the setup technician—no tools needed—can raise and lower the tail pulley to match die height.

"We change dies on the hydraulic progressive-die press an average of three times/shift," says Dimpfl," with a total changeover time of around 45 min. With the gain in productivity from the new press, I'm sure we'll be changing dies more frequently. As a result of the automation and other features built into the overall press line, we expect to reduce changeover time to 30 min. or less, further advancing our lean and machine-uptime initiatives."

Safety Ensured

Last but certainly not least, Wenzel points to the built-in safety arrangement of the conveyor design.

"Often, the challenge for designing the exit end of any press opposite the feeder is guarding," he notes, within the context of providing enough room and access to allow the operator to efficiently move parts a from the press, while preventing him from reaching into the die.

"In this application, we are using the part-out conveyor as part of the machine-guarding setup," Wenzel says. "It will fill the entire press window so the operator can't reach into the die area, and we've added some additional guarding to prevent him from standing next to the conveyor and reaching around it."

MF
See also: Aida-America Corporation, A Subsidiary of AIDA Engng LLC, , Mayfran International, Inc., Coe Press Equipment Corporation
Related Enterprise Zones: Automation, Fabrication
---
Reader Comments
There are no comments posted at this time.
Visit Our Sponsors