Articles
Hydraulic Press Bats Leadoff in this Lineup
Wednesday, June 1, 2011
According to the value statement posted to the website of Capitol Stampings, the company does more than just fill orders. It goes beyond components to offer customers "business solutions."
Capitol Stampings' 400-ton Macrodyne hydraulic press receives robotically loaded blanks that are stamped lube-free. the press's ability to dwell at the bottom of each stroke has improved form-angle repeatability, regardless of variations

in steel properties among blank stacks.



Make no mistake, the firm can stamp parts. Its 181,000-sq.-ft. plant in the heart of Milwaukee, WI, houses some 30 mechanical-press lines from 90- to 1000-ton capacity. The factory can churn out stamped metal parts in a variety of sizes from a wide range of material types and thicknesses. But with a focus on delivering on its promise to provide business solutions to its customers, Capitol has devoted boundless energy in recent years to evolve into a fully capable value-added contract manufacturer.
"We once were devoted primarily to the power-transmission market," says company president Gary Wenzel, referring to Capitol's legacy of manufacturing sheave and drive pulleys, idlers, sprockets, gears, spindles and similar parts to customers in the lawn and garden, agricultural and other industries. Much has changed, though, since Wenzel and others acquired the company in 2006, with a commitment to broaden its horizons. Lawn and garden now represents only half of the company's top line—a top line, adds Wenzel, that has grown by 60 percent since 2009.
Hydraulic vs. Mechanical
The newest project fueling the firm's top-line growth hit the shop floor earlier this year, when one of Capitol's customers handed over a set of six dies it had been running to stamp large parts for electrical enclosures.
"It needed to pull cost out of the parts," says Wenzel, "and asked us to take a look at the process (which includes resistance welding reinforcement components to the panels), and even inherit an existing mechanical-press line. After reviewing the process and equipment, we felt that in order to truly reduce costs, we could justify investing in a new and completely automated press line."
Parts for the job are large, heavy and flimsy—14-gauge panels measuring 22 by 90 in.—so material handling proves taxing and labor intensive. Therefore, as Wenzel's team went to work devising an optimally efficient process, automation topped the wish list.
"We felt that if we could introduce some new technology and automation to the job, we could offer a significant cost savings to the customer," shares Mike Krajna, Capitol Stampings' director of operations. The new technology of which Krajna speaks: Moving the dies off of its customer's mechanical press and onto a new hydraulic press—a 400-ton model from Macrodyne, Concord, Ontario, Canada.
Why hydraulic? For starters, the ability to adjust stroke based on part-design requirements "is profitable for us," says Krajna, noting that the new press's design allows stroke length to vary from 36 to as little as 10 in., "which means there's minimal air time," Krajna adds.
The Automation Equation
…features press-tending robots (refurbished Fanuc models) stationed at the front and back of the press. One robot feeds blanks into the die and the second robot moves formed parts out of the press and onto the bed of a press brake for additional processing. The production cell also includes automated conveying of stamped and fabricated parts to a manual resistance-welding station, where small reinforcement pieces are assembled to the panels.
With the cell's design calling for robots in front and back, dies must move in and out of the press through the window. Here's where the flexibility afforded by a hydraulic press paid off yet again. To accommodate through-the-window die changes, Macrodyne customized its 400-ton 48-in.-bolster press to create 52 in. between uprights.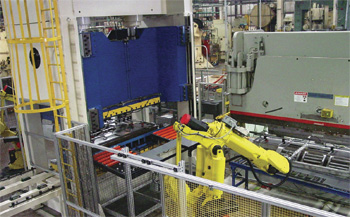 A robot stationed at the rear of the hydraulic press moves stamped parts from the die to the bed of a 12-ft. press brake for additional processing.
The switch from mechanical to hydraulic also has improved part quality, says Krajna. "Repeatability is incredible," he says, crediting the ability to dwell at the bottom of each stroke to "set the material" with improving form-angle repeatability, regardless of variations in steel properties among blank stacks. "Tolerances on right-angle forms are ±1 deg., and we're far exceeding that, consistently meeting or exceeding angle tolerances of ±0.25 deg."
The switch to a hydraulic press also allowed Capitol to eliminate the use of lubricant on the blanks. "We're able to complete three 90-deg. forms and extrude pockets in the tool using only the mill oil," says Krajna, "which brings significant benefits."
Among the benefits of a lube-free process: Capitol's partner company Hartford Finishing, which powder-coats the panels, enjoys a much simpler and less costly cleaning process prior to coating; and manipulating the panels with robotics and end-of-arm suction tooling proves much more reliable, says Krajna, than if the panels were covered in lube.
A $1-Million Investment, with a Tight Timeframe
The production cell—a $1 million investment for Capitol Stampings—turns out 2500 panels/week running one shift/day. Cycle time through the cell—stamping, bending in a two-station press-brake setup, and manual resistance welding—is 45 sec. Tops on Krajna's list of challenges to yielding A-1 part quality through the cell: bending a severe z-pattern on one end of the panels in the press brake.
"The part design prohibits the robot from maintaining its grip on the panel during bending in the brake," says Krajna. "It has to let go, so we had to engineer and construct a system of programmed cylinders to follow and support the part during this bend sequence."
The press brake is a 350-ton 12-ft. Cincinnati—refurbished and added to the cell by system integrator Promatech (also in Milwaukee). In fact, Promatech oversaw the entire cell's specifications and acquisitions.
"We had only 6 months from when we specified the cell until launching production at our facility," says Wenzel, "and Promatech played a key role in making that happen. Another critical success factor was Macrodyne's use of online press diagnostics."
"During initial trial runs through the cell, Macrodyne engineers were able to, from their offices in Canada, have complete visibility into our process," adds Krajna. "They could recommend changes to any part of the process and even adjust the press programs on the fly. This was critical, because the press arrived at the plant just two weeks before the tools arrived, so we had little time to test it."

This online and offsite technical support promises to continue to play a pivotal role as Krajna and his production team look to bring in additional work for the cell.
"We've already justified the investment in the automated production cell," notes Krajna, "with an estimated 3-yr. payback period. In addition, with Macrodyne's continued support, we view the cell as in investment in the future, based on its flexibility and adaptability to other jobs."
MF
See also: Macrodyne Technologies, Inc., FANUC America, Inc.
Related Enterprise Zones: Automation, Fabrication, Presses
Visit Our Sponsors