Process for Joining Aluminum and Other Lightweight Sheets
October 1, 2018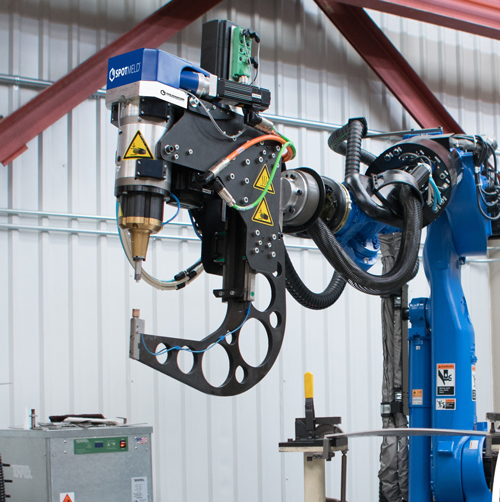 Coldwater Machine Co.
Booth A3251
Coldwater Machine Company will highlight its SpotMeld system, a refill friction-stir spot-weld solution that can weld lightweight materials such as aluminum, magnesium, and other nonferrous and dissimilar sheet materials. It provides an alternative to single-point joining processes such as resistance spot welding, laser welding and riveting without adding additional weight to the structure, and its produces a weld that is near original material strength, according to company officials.
The SpotMeld system can join a stack of materials from 0.8 to 8 mm, weld dissimilar aluminums in one stack and join multiple sheets across the edge of a panel. And, SpotMeld welders can be configured to application specifics and mounted on any industrial robot, and a variety of weld recipes can be used on demand by the robot controller.
A major advantage of the SpotMeld approach: The tool doesn't fully penetrate through the bottom sheet, leaving a smooth surface with potential for use on exterior body panels. Other benefits include a small heat-affected zone, consistency in weld duplication and more rapid weld times. In addition, the process reportedly is cleaner and safer that alternative processes, with no filler material, spatter, smoke, radiation or shield gasses.

See also: Lincoln Electric Automation – Coldwater Machine
Technologies: Welding and Joining