Press-Type Spot Welder Tackles Resistance Welding of Aluminum
September 1, 2012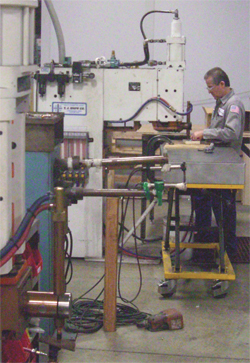 After struggling for years with inconsistent welds produced by an undersized rocker-arm spot welder, this 30-employee precision sheetmetal fabricator now is actively seeking work that involves the resistance-welding process.
"Our shop gained a whole new department due to the purchase of two heavy-duty spot welders," says Greg Johnson, president of LJ Fabricators, Rockford, IL, who manages the family-owned company with his brother Chris, vice president of operations.
"We don't usually purchase equipment until there's a need," continues Greg, "and several years ago a customer presented us with the opportunity to fabricate a large quantity of parts made of 0.050-in. aluminum. Our traditional method of gas-tungsten-arc welding of those parts would have been too slow and costly, so we decided to spot weld them."
When it became obvious to the Johnson brothers that LJ's light-duty 30-KVA rocker-arm spot welder would not handle aluminum, they looked to T. J. Snow Co., Chattanooga, TN, to provide a remanufactured press-type spot welder. T.J. Snow had converted the machine from its original AC transformer to a state-of-the-art mid-frequency direct-current (MFDC) transformer and control.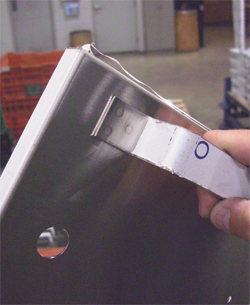 The high secondary-amperage output of MFDC technology has proven ideal for spot welding aluminum at LJ, and the vertical press-type machine produces very attractive welds, say the Johnsons. And, only two months after installing the new welding machine, the brothers received a call from a customer in the food-service industry that needed to farm out a huge amount of fabricating—75 part numbers requiring stainless-steel spot welding.
"Production welding had never been our world," recalls Greg, "but this customer wanted us to produce 1350 parts/week. Having the MFDC spot welder gave us the confidence to proceed with the order."
Soon after that large food-service order landed in the shop, LJ Fabricators purchased a standard T. J. Snow AC press-type spot and projection welder, with a larger diameter air cylinder capable of producing the proper forging force for spot welding of stainless. Using the proper settings makes it much easier to get strong and attractive spot welds on stainless steel.
"Having the two good spot welders in our shop has allowed us to go after projects we might not have been competitive on in the past," says Greg, "and now we purposefully look for spot-welding jobs."
T.J. Snow Company: 423/894-6234; www.tjsnow.com
See also: T. J. Snow Company
Technologies: Welding and Joining