Low-Maintenance Spot-Welding Gun Ideal for Aluminum
October 1, 2014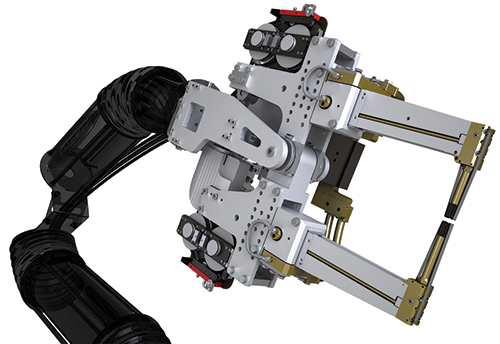 In close cooperation with users from the automotive industry, Fronius International GmbH (with U.S. operations in Portage, IN) has developed its second-generation DeltaSpot resistance spot-welding gun that's loaded with new features to improve serviceability, minimize operating costs and optimize quality. The core elements of the second-generation gun include a newly configured base body and radically reworked arms and drive motors.
With the previous generation, the reeling and unreeling device for the process tape, welding-gun adjustment and the servo-electric main drive were integrated into the construction of the arm body; they now are located on the base body. As a result of this decoupling, Fronius engineers simplified gun construction and made the design more stable, an absolute must for aluminum spot welding. A powerful mid-frequency direct-current transformer operates at 1000 Hz. This enables the system to readjust every millisecond during welding to help achieve optimum results. And, the transformer and rectifier have been shifted closer to the electrodes to minimize conductivity loss.
As part of the reworking of the mechanics, Fronius made the interface between the base body and the arms more modular. Also, the arm geometry and window are more flexible for customized configurations.
To speed repair and maintenance of the gun and minimize downtime, components such as transformer, motor control box, tape drive and main drive have plug-in connections. And, engineers simplified replacement of the process tape—the specially coated metal tape inserted between the workpiece and the electrodes that protects the surface of the electrodes against contamination. This ensures that electrode contact surfaces stay clean and each weld uses the identical start situation.
Fronius: 877/376-6487; www.fronius.com
See also: Fronius USA LLC
Technologies: Welding and Joining