Self-Clinching Nuts Mount Close to the Edge
September 1, 2008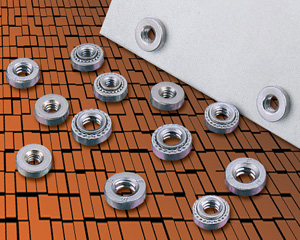 PEM Type SMPS self-clinching nuts from PennEngineering, Danboro, PA, can be permanently mounted in metal-alloy sheets as thin as 0.025 in. while maintaining edge-of-sheet to center-of-fastener distances of as little as 0.145 in. A relatively lower-profile design with small diameter (0.220 in.) and low height (0.065 in.) adds to their suitability for applications where space for attachment hardware is limited.
The self-clinching nuts provide strong and reusable threads. A single mating screw completes the assembly. No other attachment hardware is required and nuts will not loosen, fall out, or otherwise adversely impact end-product integrity or performance.
PEM Type SMPS nuts are of 300 Series stainless steel, in unified and metric thread sizes 2-56 through 6-32 and M2.5 through M3.5.
See also: PennEngineering
Technologies: Welding and Joining