Portable Part/Assembly Measurement
March 1, 2008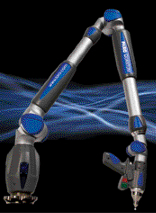 The Quantum FaroArm from Faro Technologies, Inc., Lake Mary, FL, has the power to inspect and perform CAD-to-part analysis in any environment. It offers an 8-ft. volumetric accuracy to ±0.0007 in. It provides an alternative to measuring parts in a controlled environment using large coordinate-measuring machines.
Benefits of employing the Quantum FaroArm include precise, efficient part production, part certification without long inspection-room queues, and quick delivery to customers.
See also: Faro Technologies Inc.
Technologies: Quality Control, Welding and Joining