New System Straightens Parts, Assemblies
March 1, 2008
Promess Inc., Brighton, MI, introduces the Tweak-O-Matic straightening system, applicable to sheetmetal stampings, machined parts, extrusions, tubular assemblies, and virtually any component or structure that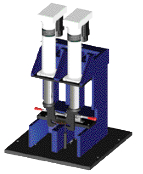 requires straightening. The heart of the machine is the company's electromechanical assembly press (EMAP). The Tweak-O-Matic employs two EMAPs, one on each side of a part-clamping fixture. After the part is clamped, the rams move into contact and their position is communicated to the control via the company's PRO process-monitoring and test system. By comparing the actual part location to a predetermined standard, the straightening system can determine if the part is flat. If so, the part is unclamped and passed down the line. If not, the presses operate in tandem to straighten the part, with direction, distance and force all calculated by the PRO module. The process repeats—move, measure, move—until desired flatness or straightness is achieved.
The Tweak-O-Matic can be configured to handle a range of stamped parts and assemblies.
See also: Promess Inc.
Technologies: Welding and Joining