AI-Driven Software Provides Answer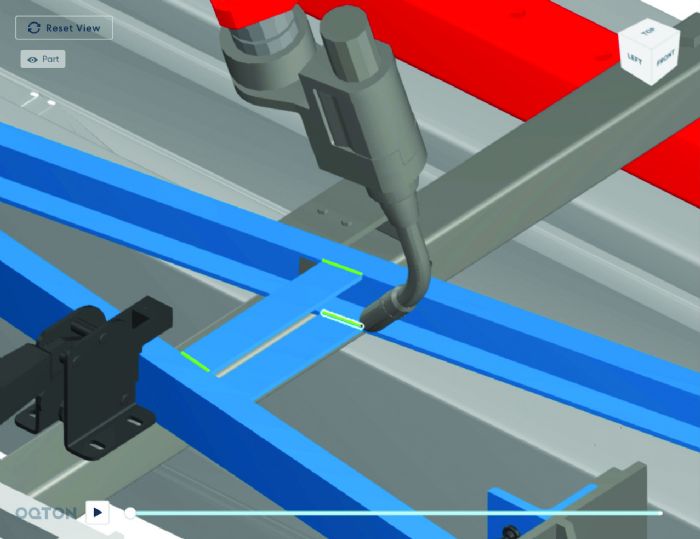 A 2-yr. collaboration with Oqton, a manufacturing-software provider headquartered in Belgium and with U.S. operations centered in San Francisco, CA, has yielded a manufacturing operating system for welding robots that leverages artificial intelligence (AI) to achieve optimal welding parameters —and helps Van Hool Industrial Vehicles meet production challenges without downtime due to programming.
"In practice, after a user uploads a CAD file, the software for welding extracts potential weld lines, generates collision-free robot-motion profiles and suggests optimal welding-process parameters using AI and machine learning technology," says Mark Forth, general manager of industrial manufacturing for Oqton.
The software uses tactile sense motions to recognize and adjust for geometric deviations and mounting errors. Users, if desired, can make adjustments through a simple, intuitive user interface that is built for welders, and does not require programming knowledge. Once the robot begins welding, Oqton IoT monitors the process quality online, with real-time alerts and reports for manual inspection or rework generated automatically.
Though the platform integrates with existing systems and supports welding robots and collaborative robots (cobots) from multiple brands, company-specific models, such as that developed for Van Hool, are trained to capture insights on specific applications and welding processes. The model learns and improves over time to suggest automatically the optimal process parameters for each specific weld.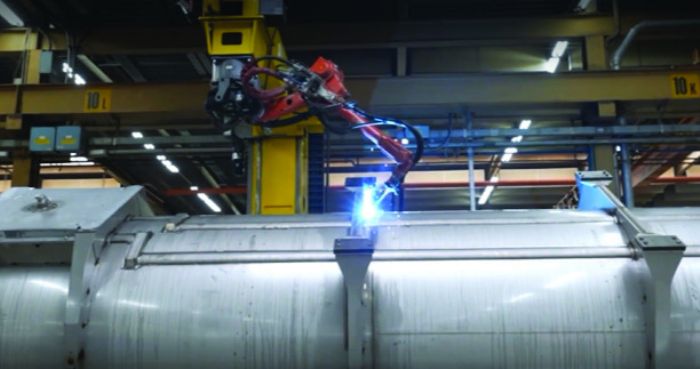 "For the labor-intensive smaller volumes, we were looking for a more automated solution—preferably a fully automated solution—for programming our welding robots," explains Paul Meynen, IT architect CAD/CAM for Van Hool. "During our own development we've found that programming often requires a lot of logic, and that some issues can't be solved without the assistance of AI. We also believe that AI offers solutions to many future problems. Oqton brings a solution that is grounded in AI and that often results in fundamentally more added value compared to solutions that can be achieved through classic programming.
"We are convinced that this software will allow us to program more robots with the same number of programmers that we currently have," Meynen continues. "These people are difficult to find, but we are determined to continue production in Belgium. Thus we depend on highly technological solutions to control our production, and we certainly will continue to invest in order to do that."
Since the Oqton collaboration began in 2021, Van Hool has made significant improvement in robotic welding operations. Where one operator was needed per robot for small-volume work, according to Ceulemans, now a single operator can cover several robots. And, offline programming of robots enables the virtual perfection of all movements, from the start of a weld to its conclusion, before passing of these movements to the robots, with no manufacturing downtime.
"When using offline programming for robotic welding before employing the software, we first needed to determine the exact location of each individual weld," says Ceulemans. "And, we had to enter all of the movements, from the start of a weld to the conclusion of a weld, to avoid collisions. With the new software, we only need to determine the type of weld and fine-tune the weld while the software handles movements to and from the weld. In the past, while programming the robot welding we would focus on programming the robot," he continues. "Now we can focus mainly on the welding."
More Automated Welding Expected
Van Hool now hopes to automate even more steps that it currently performs manually. At that point, the firm expects offline programming to improve robotic welding productivity by as much as 50 percent.
Production of kingpin plates used in steering mechanisms on heavier vehicles, offers Ceulemans, provides an example of expected future gains via the software.
"The kingpin plate consists of components laser cut from steel sheet," he explains. "If necessary, these components are bent and joined with adhesive welds, and then the robot finishes the welding. Programming for kingplate welding can range from 2 hr. to a couple of days, depending on the complexity of components. We hope to reduce programming time by 50 percent via the software. Because of the large diversity in components and their complexity, much welding-programming knowhow now rests with the robot programmer. This is not that easy to automate. We hope that the Oqton software's AI will help us to capture this information." MF
Information for this article was provided by Oqton, with U.S. offices in San Francisco, CA.
See also: Oqton
Technologies: Pressroom Automation, Sensing/Electronics/IOT, Welding and Joining