Slim-Nozzle Torch Body Improves Robotic-Welding Access
November 1, 2018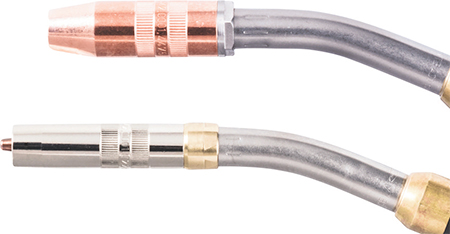 Fronius has developed the MTB 350, a new torch body for robotic welding featuring a gas nozzle with a diameter reportedly 20-percent smaller than conventional torches to improve access. Owners of the Fronius TPS and TPS/i robotic-welding devices can retrofit the new MTB 350. The gas nozzle's diameter, 20 mm as opposed to the conventional 25 mm, allows the welding torch to reach the interface more easily, even when working with challenging component geometries.
The torch body is available in various geometries (22, 36 and 45 deg.) and in a longer torch body suited to typical designs used in Asia.
Despite the slim gas nozzle, the new torch body enables a high-duty cycle at maximum output. At 350 A when using pure CO2, the welding torch achieves a duty cycle of 60 percent. At 300 A, the torch can weld without interruption. If mixed gas is used, the MTB 350 can achieve a 100-percent duty cycle at 250 A and 60 percent at 300 A.

See also: Fronius USA LLC
Technologies: Welding and Joining