Seven Basic Tips for Implementing a Robotic Welding Cell
January 30, 2019
Robotic welding can significantly improve your manufacturing operation's productivity and weld quality, saving time and money spent making fixes and improving processes, so long as you know and practice the basics. From choosing the right welding wire to establishing a proper tool center point, many variables play a role in optimizing robotic-welding cells.
The following tips for setting up a cell help establish repeatable and consistent process, resulting in quality welds, reduced rework and maximized investment.
1. Use Proper Weld Settings
Factors such as wire size and material thickness determine proper weld settings. Some welding power sources offer technology that allows welders to input the wire size and material thickness, with the machine suggesting recommended parameters for the application.
Without this technology, finding the correct parameters involves trial-and-error. Sometimes the robot manufacturer, welding-power source manufacturer or system integrator can assist in choosing and testing specific materials to provide a starting point for the proper welding parameters.
2. Choose the Right Wire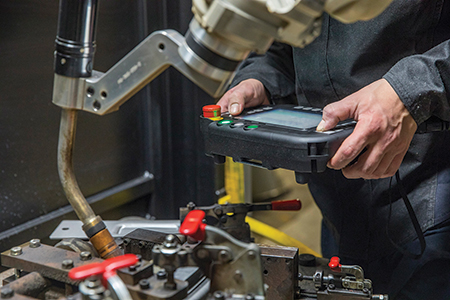 From choosing the right welding wire to establishing a proper tool center point, many variables play a role in optimizing robotic-welding cells to produce the best results.
The choice of filler metal for a robotic-welding system can impact productivity, weld quality and overall investment. Material type and thickness, as well as the expected outcomes for the welded part, are important considerations when selecting the wire. Welding-equipment and filler-metal manufacturers often offer charts to help match welding wire to process needs.
While solid wire has been the industry sta-dard in robotic welding for many years, metal-cored wire provides an alternative that offers productivity and quality improvements in some applications, particularly in the manufacture of heavy equipment and automotive exhaust systems, chassis and wheels. However, each wire type offers pros and cons for certain applications.
3. Consider the Gun and Consumables
Robotic-welding guns and consumables, including the nozzle, contact tip and gas diffuser, greatly impact performance. The right combination reduces unplanned downtime and improves overall cell efficiency.
Robotic-welding systems, typically operating at higher duty cycles than semiautomatic welding applications, may utilize transfer modes known to be especially harsh on gun consumables. As a result, use of more heat-resistant, heavy-duty consumables, such as chrome zirconium contact tips, or tips designed for pulsed-welding processes.
Verify that the welding gun's duty-cycle and amperage ratings meet application requirements. To avoid excessive wear and premature failure, the gun should not rub against any part of the system or another robot in multi-robot applications.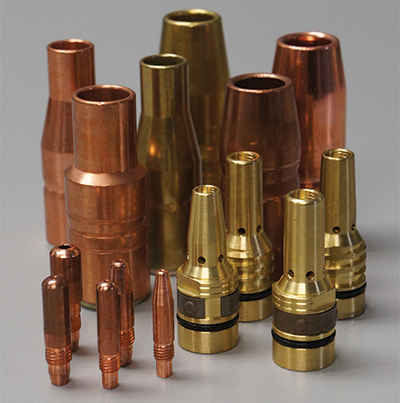 Welding consumables, including the nozzle, contact tip and gas diffuser, have a huge impact on performance in the robotic-welding cell. Consider using heavy-duty consumables that are more heat-resistant than standard-duty consumables.
Also, ensure proper installation of consumables. Improper or loose connections produce more electrical resistance and heat, causing faster consumable wear with premature failures. Another common failure in robotic welding: improper liner installation. Always follow the manufacturer's directions for liner installation and cut length. A liner cut too short can cause premature failures of other consumables in the system.
4. Reduce Cable Wear
Good cable grounding in the weld cell helps prevent potential problems as the cell ages. Two cables run from the welding power source: one attaches to the wire feeder and the other to the tooling. These cables, often long, may travel from the shop floor to an elevated platform or through wire trays. The section of cable running up the robot or to a positioner will move constantly, causing greater wear over time.
Using a junction with high-flex ground cable at the base of the robot or the workpiece helps reduce downtime and repair costs, requiring only the replacement of a 6-ft. cable section, when worn, rather than replacing perhaps 50 ft. or more of ground cable running all the way back to the power source. However, you should have as few breaks or junctions in the grounding cable as possible to maintain a better electrical connection.
When mounting a ground cable to the welding workpiece, use copper anti-seize lubricant, sometimes referred to as copper slop. This supports the transfer of electrical current and helps prevent the mounting point from fusing together or deteriorating over time. The lubricant assists in all areas where grounding current may run run through pins or other semi-permanent contact points.
Proper gun-cable management also extends cable life. The more any cable bends and flexes, the more it will wear and tear, ultimately shortening cable life due to high heat and resistance. Minimize cable bending and flexing in your robotic process and tooling design.