Online Tool Analyzes Welding Productivity
March 26, 2020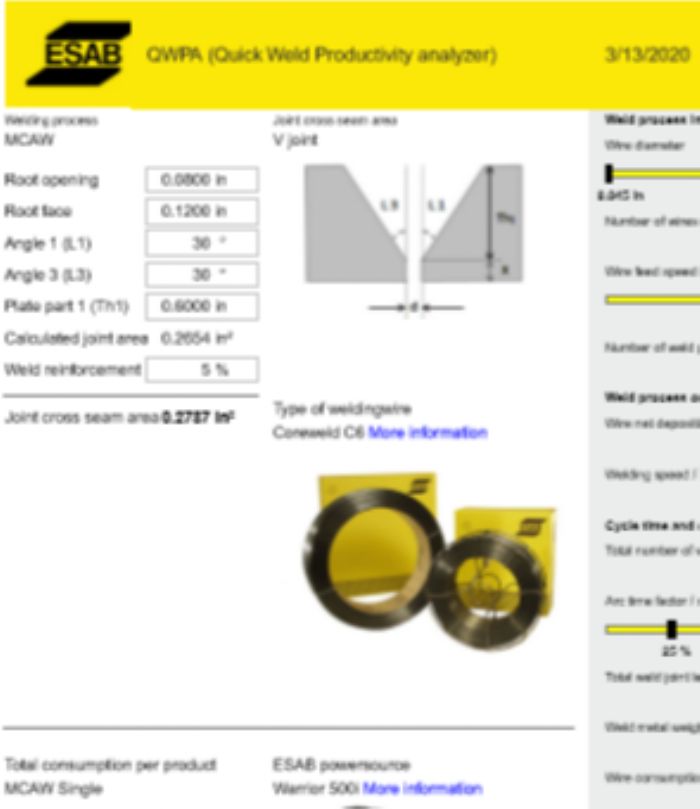 Esab Welding & Cutting Products has updated its Quick Weld Productivity Analyzer (QWPA), a simple-to-use calculator for total weld-cost analysis that enables users to generate a PDF report. The PDF includes a QR code that users can scan with their mobile phones, taking them back to their original calculation and input variables. Users then can adjust the variables to create alternative calculations and generate a new PDF report. The QWPA enables fabricators to make decisions based on factual data collected at their shops.
It produces calculations for:
* Net deposition rate and welding speed per pass after selecting weld process and inputting data, (wire/electrode type, diameter, parameters, joint configuration, joint cross-seam area, joint length, number of passes).
* Weld-operation time--a sliding scale for arc-on time/operating factor calculates weld-metal weight in lb./ft., cycle time/product and energy consumption.
* Total production cost/ft.-weld or cost/product based on production costs for consumables, energy and labor cost.
The updated calculator includes more filler-metal selections for the North American market. Globally, improved links from the QWPA present filler metals and welding equipment that are available in the country of origin.
"The updated QWPA interface improves the user experience, while the ability to retrieve and edit calculations saves time and eliminates the hassle of re-entering variables," says Dick Skarin, global value added engineering manager for Esab.
See also: ESAB Welding & Cutting
Technologies: Welding and Joining