Multi-Process Weld Power
October 1, 2009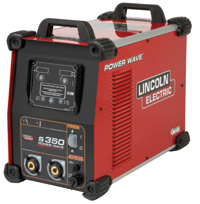 Lincoln Electric displays its portable Power Wave S350 multiprocess arc-welding power supply, ideal for construction, aerospace, fabrication, automotive and production welding. Capable of shielded-metal-arc, DC and pulsed-DC gas-tungsten-arc, gas-metal-arc and pulsed gas-metal-arc, and flux-cored arc welding, it features PowerConnect technology for automatic input voltage reconnection, a Tribid power module to maintain overall efficiency and power, and Production Monitoring 2 software to track weld data.
Also on display: Accu-Pak boxes of the firm's SuperArc weld wire, easy to transport as corrugated-cardboard mini-pallets for a 500-lb. box and wooden mini-pallets for a 1000-lb. box.
See also: Lincoln Electric Co.
Technologies: Welding and Joining