Modular, Compact-Footprint Arc Welding Cells
June 21, 2022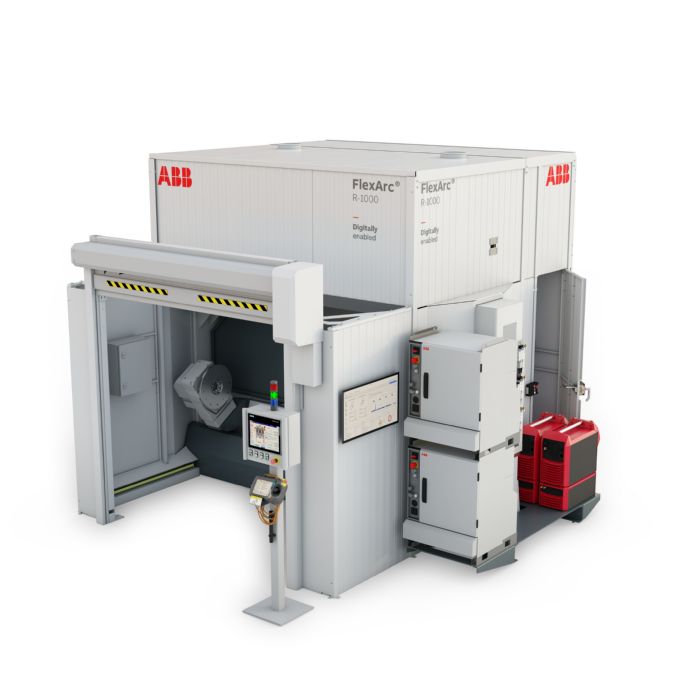 At the recently held Automatica 2022 in Munich, Germany, ABB launched its OmniVance FlexArc Compact, a compact welding application cell with greater flexibility, ease-of-use and better integration, according to company officials, who note that the cell helps manufacturers address labor shortages in welding.
"Welding is one of the fastest-growing applications for automation, and it's being driven by a lack of labor," said Marc Segura, ABB's Robotics Division president, at an Automatica press briefing. "Rising costs and more challenging customer needs make production more complex, meaning that manufacturers need simple automation solutions that can easily adapt to changing market needs. OmniVance FlexArc is our answer. We are making it even smaller, more flexible and easier to use."
This ready-to-deploy, modular solution incorporates robots, controllers, software, peripherals and other key components into a simplified, welding application-specific cell. With reportedly the smallest footprint in its class—154 sq. ft.—the cell helps manufacturers optimize space, while as many as four robots can be added without altering the cell's structure, aiding flexibility. A 45-deg. gantry robot mount design maximizes the robot's working parameters by placing it in the center of a three-axis turntable, bringing it closer to the workpiece.
The OmniVance FlexArc cell can be simulated before commissioning with RobotStudio, ABB's simulation and programming tool, to reduce integration time and effort. And, ABB's latest FlexArc software suite enables users to collect and analyse data to refine performance and improve decision-making and welding efficiency by visualizing production data against specific key performance indicators.
Easily integrate autonomous mobile robots as well as material-handling and quality-inspection equipment to enhance the functionality of the new cell to automate and speed manufacturing logistics, offer ABB officials. And, if production increases, the OmniVance FlexArc Compact can be scaled with additional cells.
The OmniVance FlexArc Compact is one of three OmniVance offerings introduced at Automatica. Also under the OmniVance umbrella: OmniVance Machinining Cell for machining applications and OmniVance FlexLoader for part picking and placing. OmniVance, the new name that unifies all of ABB's standard robotic application cells, responds directly to the global trends of labor shortages, greater uncertainty, and changes in consumer behavior, according to company officials, who note that this branding marks the arrival of more intelligent, more adaptable, more capable and more space-efficient robotics solutions.
See also: ABB Press Automation Solutions
Technologies: Welding and Joining