Modified GTA-Welding for Exceptional Cooling, Better Welding Results
June 1, 2018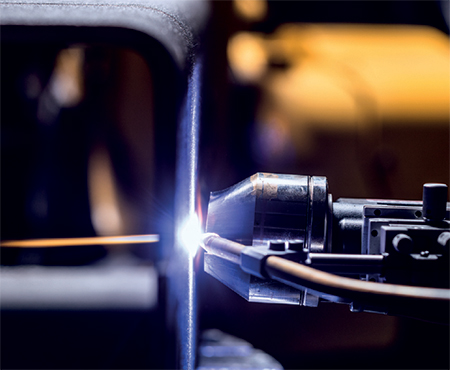 When welding, seam quality and speed matter. With a modified gas-tungsten-arc (GTA) welding process called ArcTig, Fronius addresses both, according to company officials. A special welding torch allows the GTA arc to be focused in a targeted manner, thus significantly increasing energy density. Users quickly can weld high-alloy sheets and pipes to 10 mm thick without extensive seam preparation.
The key innovation here is the optimized welding torch with an electrode-clamping system, which enables the electrode to be cooled right to the tip. This increases the combined resistance and creates a high arc voltage. Electron emission now takes place over a small area but at an extremely high density. This makes the arc narrower and more targeted, reportedly allowing the user to achieve exceptional weld-seam quality. Another advantage of the cooling is that it prevents overheating of the electrode during welding, providing increased arc stability and ensuring a longer service life and improved ignition.
Users can upgrade all GTA power sources from Fronius above an output of 220 A to the ArcTig process with ease, according to company officials. The only equipment required—the new welding torch and an additional heat exchanger—provide the cooling capacity and the required temperature stability. ArcTig also is available as a complete system.
As opposed to conventional GTA welding, ArcTig can weld components in one layer to a material thickness of 10 mm. No gap during seam preparation means that no weld-pool support is required for the ArcTig process. This reportedly cuts down on rework, as the weld seam is raised to a minimal degree and little distortion occurs due to reduced heat input. This enables users to accelerate processing times considerably, while the welding process also permits higher welding speeds. Also, lower material costs result from reduced weld-seam volume.