Trying to save a few pennies on consumables when downtime, spatter removal and rework are measured in dollars makes no sense as compared to using guns with more durable construction or long-lasting consumables or using water-cooled guns to extend consumables life.
For feeding issues caused by trying to feed smaller-diameter wires at distances greater than 15 ft. or when situations create sharp bends in the gun cable, consider mounting the wire feeder on a pedestal or boom, using a portable feeder (more on that shortly) or using a push-pull gun—it's not just for aluminum.
If a standard gun configuration does not perform optimally, note that manufacturers can create custom options, such as changing the neck configuration to increase reach, angle or duty cycle, or adding a trigger guard to prevent accidental arcing.
Wire-Feeding Performance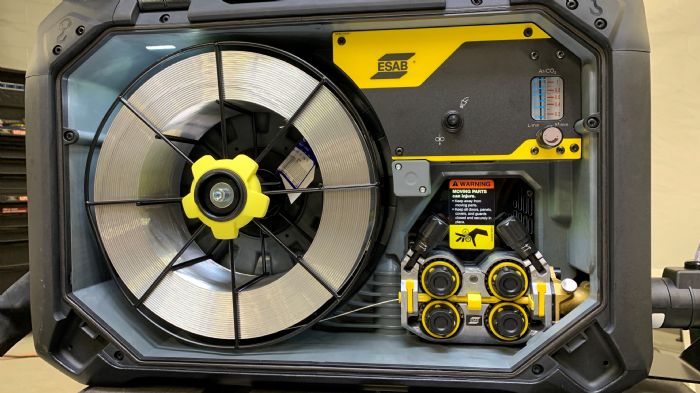 A wire-feed mechanism must deliver the wire through the torch liner to the contact tip at a smooth, consistent wire-feed speed during welding, and control speed during arc starts and stops. The drive mechanism should not crush or scrub the wire, as that generates shavings, which in turn clog the liner, hinder smooth feeding and promote burnbacks.
When performance symptoms occur, such as arc instability caused by wire slipping, many operators apply additional pinch force to the wire by increasing pressure on the adjusting screw. This usually won't fix the problem, and in fact it may create additional problems, such as generating more wire shavings. The solution: Look for a well-engineered drive stand in the first place.
And, look for systems with larger-diameter drive rolls that offer more gripping area along with those with 'four-wheel drive' (two sets of all-gear-driven drive rolls) and two independent pressure arms. Observe the feeding mechanism during arc starts and stops. A precision mechanism delivers a lower level of gear backlash.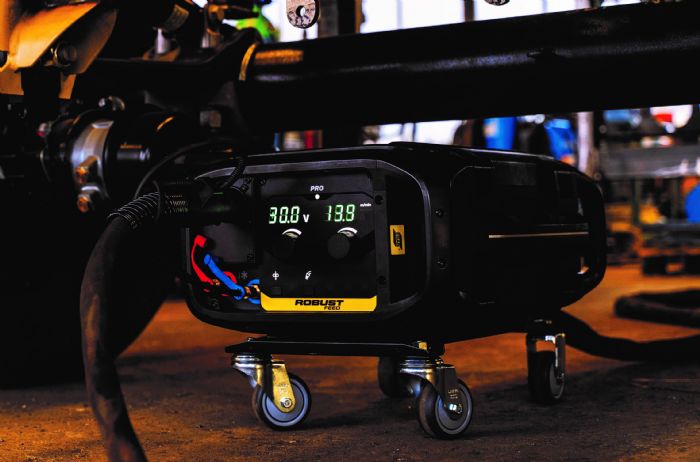 Some feeders incorporate drive stands with performance suitable for a robotic system but available in portable units—a major development. Moving feeders closer to the welding location helps operators complete work safer, faster and with greater precision, such as by viewing a feeder's digital display to confirm settings or adjust parameters without long walks back to the power source. Further, with digital controls, managers can set parameter limits to ensure compliance with WPSs.
Using an enclosed feeder also protects the wire from airborne contaminants common in welding operations, and optional heaters combat the moisture common in Southern and Coastal regions. Enclosed feeders also can isolate the system's mechanical and electrical components from contaminants, promoting better uptime.
Connected Power Sources
While the arc performance between leading manufacturers can come down to a 'Ford vs. Chevy vs. Toyota' debate, there is no arguing about the benefits provided by using welding systems connected to the cloud and pairing them with online data-management applications. These systems can improve the arc-on time factor by 10 to 50 percent during the first year of use. As long as the facility maintains a reliable wireless internet connection, users can track arc-on time, net deposition rate and travel speeds on each weld strike and session for each machine in a fleet, and generate reports along with analytic functionality.
The most common misperception with online solutions: they require a sophisticated IT department or only work for huge fleets. Cloud-based systems have advanced to where the software applications are as easy to install and use as Office 365—in fact, some systems employ a Microsoft backbone to enhance reliability and security. Any operation facing a skilled-welder shortage or challenged to meet customer demand―whether with one, 10 or 20 GMAW stations―can benefit from connected systems.
Some inverter-based welding power sources can be outfitted from the factory with communication modules, or can be retrofitted. Virtually any machine with a positive and negative terminal works with a universal connector to capture basic data (arc on-off time, weld session duration, and welding voltage and amperage).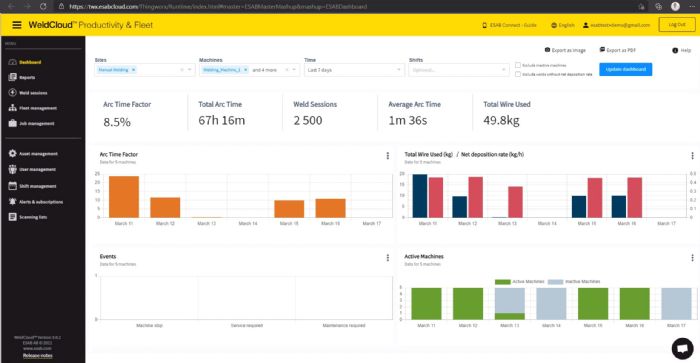 With all data securely stored in the cloud, users need not worry about lost data should a computer system break down. Should the wireless connection be interrupted, the communication module continues to save machine data and store as much as a week's worth of information. The data automatically update to the user's account as soon as the wireless connection restores.
Cloud-based systems replace guesswork and gut feelings with visibility into real-time data that enable shops to identify and remove bottlenecks—and the data are eye-opening. According to Esab's Digital Solutions team, the average production manager estimates that arc-on time ranges between 25 to 30 percent. In actuality, data analysis proves that an operation's average arc-on time measures only 8 to 10 percent in hand-held GMAW operations.
The maximum possible arc-on time for a hand-held GMAW operator is about 20 percent. To achieve this goal, fabricators must examine their workflows. Is a highly-skilled welder wasting time with fitup that could be performed by a welder's helper? Must an operator compensate for poor fitup due to inaccuracy in cutting, bending or stamping operations? Is idling caused by waiting for the overhead crane? Or, do operators waste time by grinding spatter, or correcting weld flaws, or do they experience downtime caused by premature consumables wear?
With online applications, supervisors can foster better communication with their welders and remove the problems that frustrate everyone. This holds true for selecting the right GMAW guns and wire feeders. Regardless, the solution starts with getting in the right frame of mind—who cares if it ain't broke when you know you can weld better? MF
This article was supplied by Esab Welding and Cutting Products, Florence, SC; 843/664-4411, www.esabna.com.
See also: ESAB Welding & Cutting
Technologies: Welding and Joining