New Press Ideal for Electric-Vehicle Motor Laminations
June 24, 2019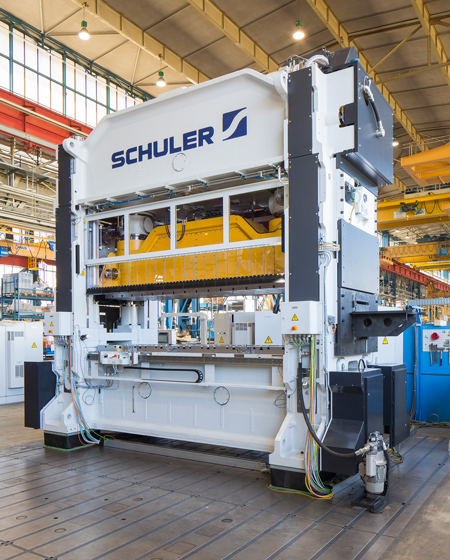 As part of the company's TechDay event at its headquarters in Göppingen, Germany, Schuler unveiled its Smartline EV 3.8 new high-speed blanking press, to be delivered the German company Waasner for the production of interlocked motor cores.
E-mobility, a highlighted topic at the TechDay event, centers on solutions for the expanding electric-vehicle market. To increase the efficiency of the electric-vehicle motors, the geometrics of electric motor lamination have become more complex, according to Schuler officials, leading to longer stamping dies. That is why the EV 3.8 features a slide length of 3.7 m as compared to the previous length of 2.7 m, and can process strip in widths to 630 mm.
In addition, lamination material thickness has decreased, with current thickness defined as 0.25 to 0.275 mm, claim the officials, while noting that this requires precise positioning and leveling of a press slide and table. Considering this challenge, Schuler has in place a penetration-depth control (PDC) to provide the needed positioning as well as repeat accuracy of the slide, achieving an interlock exactly at the penetration depth. The Schuler Smartline series can adjust the PDC at 0.01-mm increments through the entire stroke range.
The longer slide length requires consideration of deflection. Here, Schuler placed a strain gauge in the kiss blocks of the die, enabling press force to be kept constant while controlling slide deflection.
The EV 3.8 can reach 250 strokes/min. with full press force of 3150 kN and a maximum upper-die weight of 6 tons, with no need for special foundation. Also, no wear parts in the slide guiding, pressure points, connection rods and main bearings means minimized service costs. With the above-listed features as well as use of two pressure points, four pretensioned slide guidings, and optimal interaction of the static and dynamic counter balance, die lifetime can be increased by as much as 30 percent, according to Schuler officials.
See also: Schuler Incorporated
Technologies: Stamping Presses