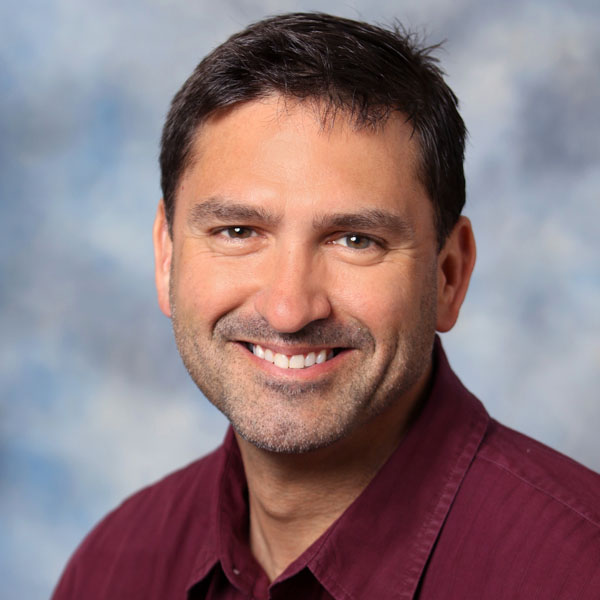 Lou Kren
Fishing-Component Supplier Lured by Press, Control Capabilities
June 1, 2016
Do you fish? Or drive a car? The buzz bait rippling across the pond or the key chain in your purse or pocket likely originated in Wisconsin. Here, in Stevens Point to be exact, for more than 70 years The Worth Company has supplied fishing-lure components and key rings to tackle and automotive manufacturers. The fourth-generation, family-owned contract manufacturer and its 73 employees make these products completely inhouse, via a fully stocked toolroom and shop floor filled with stamping presses, wireforming machines, heattreating equipment and a full-service plating department.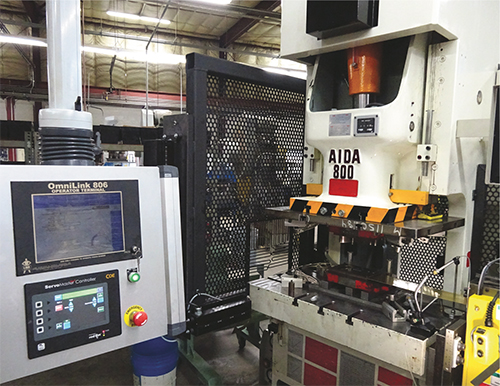 Three new 88-ton mechanical press lines, managed via state-of-the-art controls, ensures that The Worth Company maintains its status as a worldwide leader in production of fishing-tackle components. With the lines came a focus on sensoring and die protection, transitioning the company from its 'old-school' ways into leading-edge production.

"Fishing and automotive are our two main industries," explains Mark Ostricki, responsible for product design at Worth. "Ninety percent of our business is in fishing tackle and split rings. We also produce fasteners. But we will perform stamping or wire forming for anyone."

Needed to Graduate from 'Old School'

With its huge part runs—to 500,000 for tackle components and into the millions for split rings—Worth relies on equipment dependability, from presses to the tooling itself. Until two years ago, the company ran aging mechanical presses with basic controls to pound out these parts. At that point, the company considered updating the controls to bring needed modernization.

"We had the old single-revolution presses and we needed to get more advanced," says Ostricki. What began as a visit by TCR Inc., Wisconsin Rapids, WI, to explore the controls option would soon expand. The old presses could not take advantage of the capabilities offered by new press controls, so Worth instead opted to purchase a used 88-ton Aida mechanical press.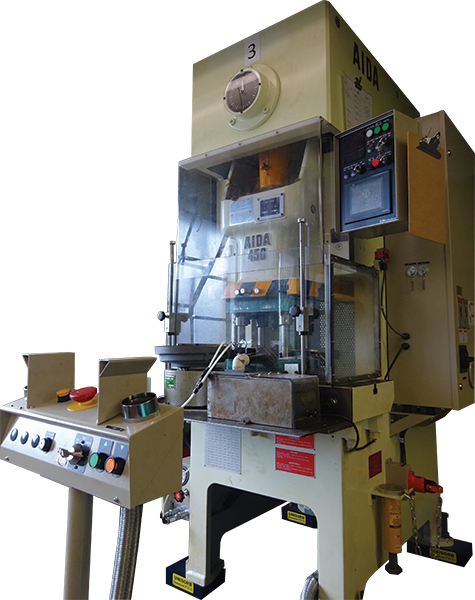 Four 50-ton mechanical presses use proprietary die technology to coin millions of split rings annually for automotive and fishing-industry use.

"TCR found us one from another Wisconsin company," says Ostricki. "It just had the press control that came with it."

Press, Control Upgrades Spur Productivity, Dependability Surge

Once at Worth, that press was outfitted with a new control, an OmniLink 5100 automation and monitoring control (AMC) system from Link Systems, Nashville, TN. Featuring die protection, programmable limit switches (PLSs) and tonnage monitor with signature analysis, the press and control combination quickly proved an improvement over the current press lineup. From there, Worth has purchased additional Aida mechanical presses, some equipped with the AMCs.

Today, Worth carries four 50-ton Aida mechanical presses to coin split rings using proprietary die technology and standard controls. Three 88-ton Aidas complete with coil-feed equipment from Coe Press Equipment Corp., Sterling Heights, MI, as well as OmniLink controls, stamp blades and other fishing-tackle components in four- to 10-station progressive dies. Part material includes brass, copper, stainless and regular cold-rolled steel, and more.

The purchase of that first press and control package two years back launched Worth into the world of die sensoring, which now is practiced on all tooling across the 88-tonners.

The focus on die protection, courtesy of the new press controls and sensors, has all but eliminated die crashes at Worth, reports Ostricki.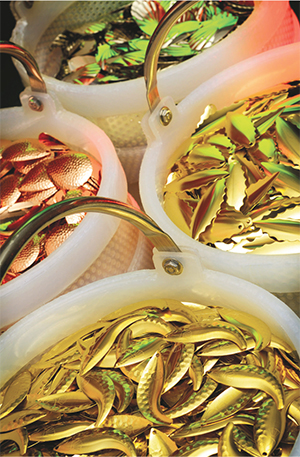 Part runs to 500,000 on Worth's 88-ton-press lines produce a variety of angling components, including various blades for fishing lures. For more than 70 years the company has supplied fishing-lure makers with components.

"The OmniLink die-protection system provides specific feedback showing when each sensor turns on and off, even if it is multiple times per stroke," adds Todd Wenzel, TCR president. "It has a history that allows the operator to review previous strokes made and see the variation or consistency of the inputs being monitored. This allows the operator to set control limits very precisely and very quickly without guess work. The system handles NPN and PNP sensors, and has custom logic capability in addition to the many stock logic choices. These attributes have allowed Worth to monitor many events in the tool accurately."

In addition, "new PLS technology has enabled Worth, with precision, to time all of the processes when stamping," Wenzel says. "In addition to angle-on, angle-off capability, the PLS has timed-off and input-driven capability. The outputs also have speed-compensation ability, which allows critical timing functions such as pilot timing to maintain accuracy even as press speed varies."

Tonnage monitoring on these new controls ensure that the new presses operate within their capacity, and signature-analysis capabilities of the tonnage monitors track the force of each hit, stopping the press if forming loads venture out of preset warning ranges. Worth now can store reference graphs from an ideal setup and overlay these graphs onto images of the current tools. Doing this allows the company to verify correct setups and spot variation from the ideal setup right on the view screen in real-time at the press.

"We chose this particular control package due to its user-friendliness, which eases the learning process for operators," says Ostricki. "We now store multiple jobs in these controls and then when it's time to run that job we just call up the job number and it automatically loads all of the line settings. That is big for us because we were old school and never had these capabilities."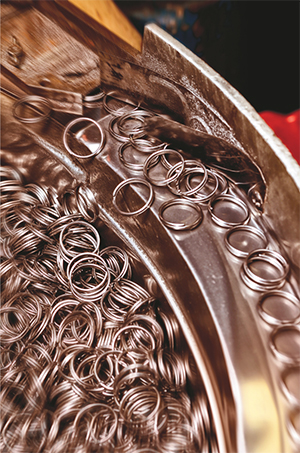 Millions of split rings destined for automotive or fishing-lure customers exit Worth's 50-ton presses each year.

Though Worth has yet to run actual time studies and formally track changes, Ostricki reports that tools now run much faster in the new 88-ton-press lines, and machine uptime has improved dramatically along with part output.

Crash Course in Crash Prevention

"Die protection and our sensor program is a huge contributor to our productivity increase," Ostricki says, noting that the 50-ton (130 strokes/min.) and the 88-ton (85 strokes/min.) presses all run at speed capacity during production at Worth. "Before, we would have a die crash and be down for as long as several weeks. That doesn't happen anymore."

With the controls addition to the 88-ton machines and the die-sensing program initiated simultaneously, it didn't take long for Worth to bring itself up to speed on the technology.