Hydraulic-Press Line to Be Showcased at IMTS
August 1, 2018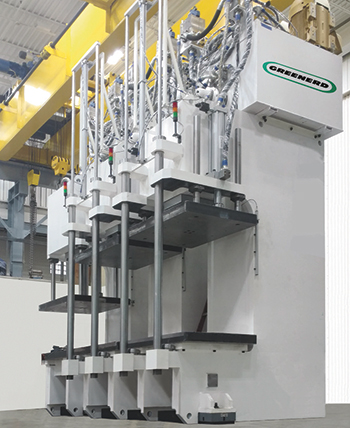 In showcasing its unique hydraulic-press applications at the upcoming IMTS in Chicago, September 10-15, Greenerd Press & Machine will highlight a new transfer line for an automotive company. The line (pictured) features three stations for drawing, redrawing and punching. Two 250-ton draw presses join a 150-ton punching press on the line, which will top out at speeds exceeding 2000 in./min.
"We are seeing substantial growth acceleration in the automotive, aerospace, appliance and HVAC equipment markets," says Jerry Letendre, Greenerd Press & Machine CEO, noting that the company provides solutions for such applications via hydraulic presses in styles ranging from gap-frame and straightside to die-spotting and forging presses, with unlimited size and tonnage capabilities.
Greenerd Press & Machine: www.greenerd.com
See also: Greenerd Press & Machine Co.
Technologies: Stamping Presses