Custom Hydraulic Presses and Integrated Automation
August 12, 2020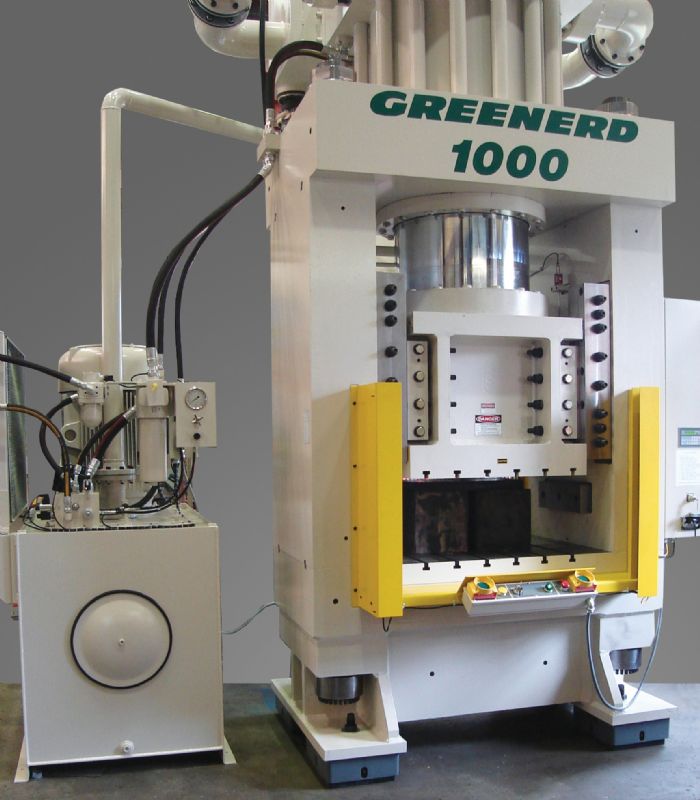 Greenerd Press & Machine Co. recently has provided a number of custom hydraulic presses for metal forming applications. The company's line of hydraulic presses, in a variety of size and tonnage capacities, include gap-frame and straightside models as well as machines for die-spotting and forging applications.
One recent delivery: a 1000-ton hydraulic press (pictured) used in a coining operation for forgings. The press, sized to provide 110 tons of pressure per square foot and featuring a 30 by 30-in. bed size, is gib-guided to handle off-center loading. Greenerd also supplied a safety light-curtain package with the press.
The company also supplied an automated 30-ton gantry-style hydraulic press, built for an application requiring precise positioning of pins. A linear transducer mounted in the press cylinder enables a minimum depth to be programmed into the control to ensure achievement of proper pin depth. The 25-ft.-long press features automated gantry positioning with optical recognition of the distance between each set of pins to be inserted. The cycle can be initiated in autonomous operation where the gantry moves to each pin location and applies required force on the pins.
As a Tier-One industrial authorized robot system integrator of Fanuc America, Greenerd also supplies its press customers with turnkey robotic product-handling solutions. This gives the company full access to Fanuc offerings, including all models, training and support, and provides the ability to provide product-handling automation in short time frames, according to Greenerd officials.
Fully integrated automation includes raw-material feeding systems, as well as robotic press loading/unloading, part manipulation, automated inspection of parts and stacking of finished products for downstream processes.
See also: Greenerd Press & Machine Co.
Technologies: Stamping Presses