Vacuum Cups for Material Handling in Hot-Stamping Applications
June 1, 2013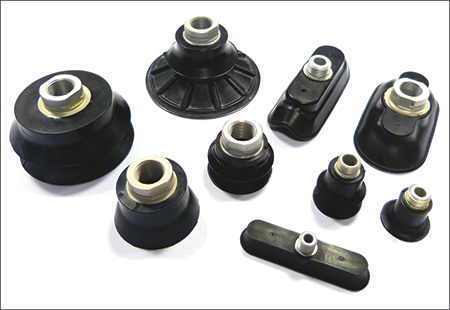 Bilsing Automation North America, Clinton Township, MI, introduces its WF2-series black vacuum cups designed to withstand the high-temperature environment of hot forming. The new silicone-free cups, made of fluorocarbon rubber, can withstand temperatures to 482 F with a medium hard material ranking of 70 Shore A.
Ongoing pressure on the automotive industry to reduce vehicle weight without impacting safety standards has created an increased use of high-strength steel (HSS), especially in the areas of structural components such as body pillars, say Bilsing officials. Although lighter and stronger than traditional steels, HSS can be a challenge in the pressroom. Hot stamping offers a stress-relieving capability that lessens the springback and warping that can occur with HSS.
Bilsing had previously addressed this growing manufacturing trend with its PSQ40 hot-stamp grippers. The introduction of vacuum cups for hot forming now provides customers a choice. Lighter in weight, vacuum cups can improve productivity and reduce tool-change time. And, vacuum cups can better handle odd-shaped workpieces.
Bilsing vacuum cups come in all automotive-industry mounts and a full range of shapes.
Bilsing Automation North America: 586/463-0686; www.bilsing-automation.com
See also: Bilsing Automation North America
Technologies: Stamping Presses