Process Monitoring for Forming and Stamping
October 2, 2019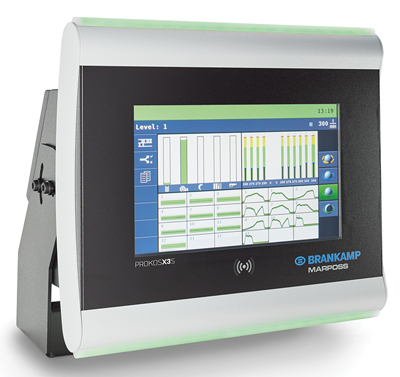 Marposs
Booth D45755
Marposs demonstrates its Brankamp X3S intelligent process monitoring system for metal forming and stamping operations. The offering immediately helps identify manufacturing faults and part or tool variations, enabling manufacturers to optimize machine efficiency, improve part quality, and limit unplanned downtime and tooling costs. Twelve channels receive sensor signals that measure force, acoustic emission, distance, temperature, etc.
Sensors placed on the machine or tool in relevant locations convert energy into electrical signals that monitor tool and machine performances related to the forces applied. From these sensors, the systems learn the normal limits of the process. The control unit then observes the signals of each cycle and compares it with the stored curve. When the signal moves outside of the envelope curve, the formed part sorts out or the machine stops.
The X3S features a 9-in. touch screen with intuitive operator interface. In addition to the multi-channel display, the systems have various analysis functions, e.g. automatic recording of run and setup times or downtimes, as well as different counters and storage media to ensure repeatability of the various processes. Data-collection masks connect to FactoryNet 4.0, the Marposs MES software suite, designed to provide an interface between machine, operator, production and resource planning, and higher-level ERP systems. FactoryNet 4.0 enables end-to-end documentation of the processes due to its connection directly with process monitoring. This connection delivers knowledge for reducing setup and downtime, optimizing lead times and enhancing machine utilization.

See also: Marposs Corp.
Technologies: Quality Control