Assembly Expo to Feature Medical-Device Assembly Pavilion
August 1, 2009
Assembly Technology Expo (ATExpo) and its four pavilions—Electronics Midwest, Wire Harness Process Solutions, Medical Device Assembly/ Automation, and Sensors and Vision —lands at the Donald E. Stephens Convention Center in Rosemont, IL, September 22-24. Sponsored by Assembly magazine, the show's more than 600 exhibitors promise to provide attendees with ideas and new-product showcases to allow metalformers to assemble their parts faster and more cost effectively than ever before.
• The Electronics Midwest pavilion will house exhibitors displaying surface-mount assembly technology and related equipment.
• The Wire Harness Process Solutions pavilion will showcase equipment used to manufacture electronic cable assemblies, including stamping, crimping and testing technology.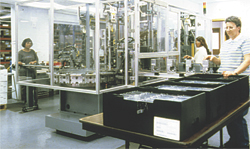 An archived article from MetalForming described this automated assembly station working at metalformer Buhrke Industries, Arlington Heights, IL, used to assemble car-radio chassis.
• Source the latest in automation and assembly technology for medical-device production at the Medical Device Assembly/Automation pavilion.
• And, see the latest in machine vision and sensing technology at the Sensors and Vision pavilion. Among the products on display at the exposition:
• End-of-line packaging equipment
• Fasteners and precision-formed parts
• Sensors
• Welding and brazing equipment
• Presses and forming equipment
• Robots and robotic systems
• Parts-handling conveyors
• Automated storage and retrieval systems
• Contract assembly services
View a complete list of exhibitors at www.devicelink.com/expo/atexpo09/ exhibit/showall.html.
Five Co-Located Conferences— Medical, Assembly, Design, Green, and Quality
A highlight of AT Expo is the Lean Factory, a series of complimentary educational sessions demonstrating a data-driven approach to assembly-line design and the tools used to create a visual factory. The sessions combine the expertise and technology of five sponsoring companies: Bosch Rexroth, Orgatex Americas (a supplier of visual-management and kanban tools), lean-manufacturing consultants Leonardo Group Americas, safeguarding-equipment manufacturer Omron STI, and equipment distributor Airline.