Virtual Robot-System Design
December 1, 2019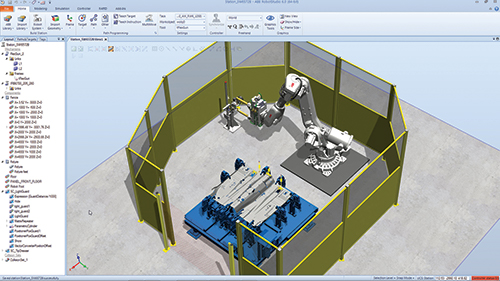 The ABB RobotStudio, which ABB Robotics showcased at FABTECH, allows programming to be performed on a computer without disturbing existing production. With the computer-based programming system, integrators can communicate better with customers and involve them closely through all phases of robot integration, from design through commissioning, according to ABB officials, resulting in more quickly designed systems and higher productivity.
RobotStudio is built on the ABB Virtual Controller, an exact copy of the real software that runs robots in production. This reportedly ensures that everything in the virtual world works exactly how it will in the real world, by using real robot programs and configuration files identical to those used on the shop floor. RobotStudio features realistic graphics that display accurate tooling, movements and throughput. Designing via the computer-based system provides the ability to verify tooling, cycle times, work envelopes and product throughput before any construction begins.
Users quickly and easily can test multiple configurations on a PC, according to ABB officials. New products can be added to existing lines in the virtual programming environment without disturbing existing production. By lowering the barriers to robotic integration through ease of programming, customers and integrators both see reduced costs and faster times to market, say ABB officials.
RobotStudio features are split into Basic and Premium functionality. The Basic functionality can be used free of charge whereas the Premium functionality requires a paid subscription. CAD converters and PowerPacs require separate subscriptions.

See also: ABB Press Automation Solutions
Technologies: Pressroom Automation