Six-Axis Cobot for Robotic Welding
August 24, 2020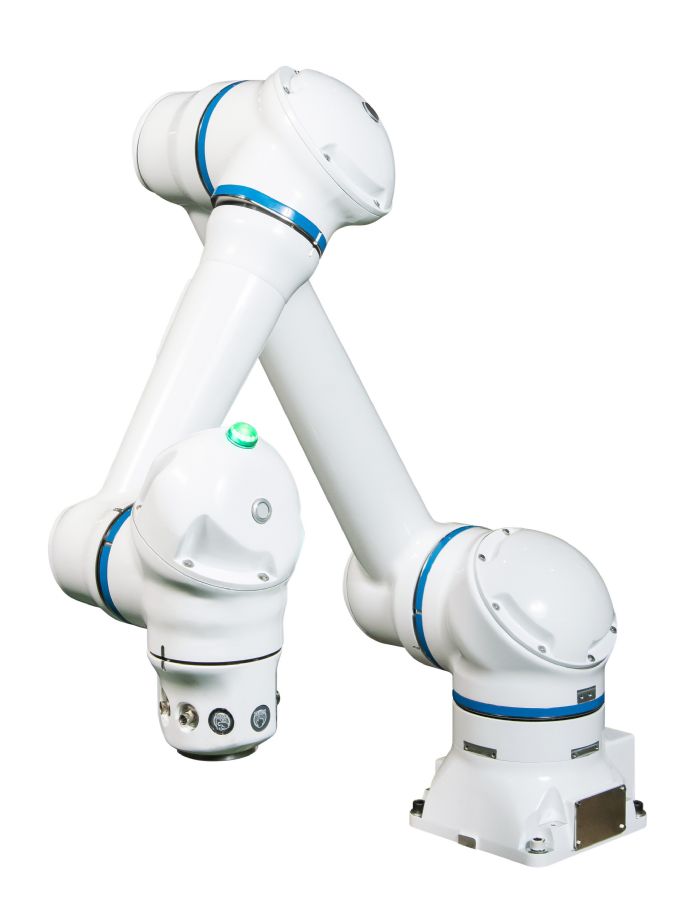 Specifically designed to add robotic-welding capacity to current production, the six-axis HC10XP human-collaborative robot, from Yaskawa Motoman, enables operation with or in close proximity to human workers. Ideal for supplementing manual welding or for rolling up to large, heavy workpieces with its 1200-mm reach, the 10-kg payload HC10XP can be repurposed easily depending on production needs.
Meeting established safety standards, the HC10XP features power- and force-limiting (PFL) technology, where dual-channel torque sensors in all joints constantly monitor force for rapid reaction. The cobot also offers precision hand-guiding, facilitating simple programming for quick implementation of a robot system.
The pinchless HC10XP can operate without additional protective measures such as a safety fence, resulting in reduced cost and space requirements. Through-arm utilities hide cabling, including a Category 6 ethernet cable that enables communications for a variety of tooling options. This reduces the risk of snagging or interference with other equipment.
The highly repeatable HC10XP can shift between collaborative speed in PFL mode or full speed in Industrial mode, optimizing cycle times based on risk assessment and process requirements. Robot path teaching can be accomplished by hand guiding, teach pendant or jogging with an external device using I/O control. The cobot is controlled by a YRC1000 controller that does not require a transformer for input voltages ranging from 380 V AC to 480 V AC.
Built with cast aluminum for industrial durability, the HC10XP features a IP67 rating to reliably operate in harsh welding environments, as well as an easy-clean surface. It also features a compact—598 by 490 by 427 mm—cabinet.
The cobot is compatible with Miller Auto-Continuum 350 or 500, Lincoln Power Wave with ArcLink, and semi-automatic power sources with I/O control of the trigger switch. It is available with Yaskawa's Universal Weldcom Interface, which enables full control of any compatible power-source brand using a common interface, as well as a variety of third-party torches, tooling and accessories.
See also: Yaskawa America, Inc.
Technologies: Pressroom Automation