Robot Management System Incorporates Nonrobot Assets
January 29, 2020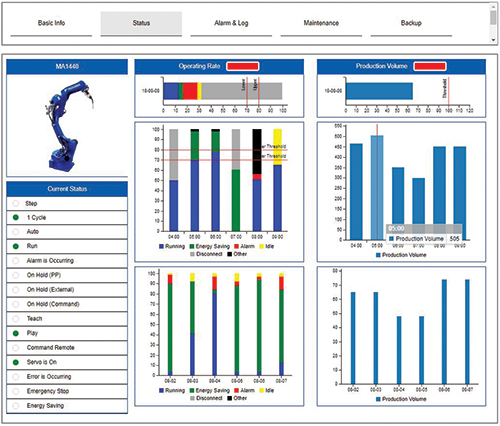 Yaskawa Cockpit, a new software platform from Yaskawa Motoman, monitors, accumulates and visually delivers operational data in real time for networked production environments.
The state-of-the-art data-collection and -visualization software tool connects hardware devices across an entire production environment for asset management, predictive maintenance analysis, alarm notification and data management. It provides an instant collection of data for equipment performance, operational trends and historical analysis.
Yaskawa Cockpit puts real-time data into the hands of those responsible for making decisions, according to company officials. Its integrated approach provides the ability to synchronize all factory and operational knowledge and enables companies to implement data-driven optimized planning, maximizing efficiency and throughput.
Reportedly one of the first robot-management systems that is extensible, the platform incorporates non-robot devices throughout the factory via the system's Add-on Functions, which collect, analyze and display data from various components, providing a centralized view of all operations.
While the data are processed, stored and presented locally through a simple browser-based interface, they also can be forwarded to external resources for utilization of AI-based big-data analytics.

And, users can build flexible solutions within the platform that match their unique needs.
See also: Yaskawa America, Inc.
Technologies: Management, Pressroom Automation, Sensing/Electronics/IOT