Third-Party Repacking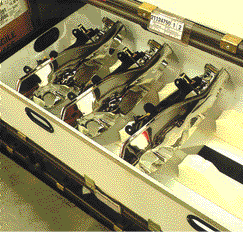 Reusable packaging can be customized with inserts to
protect delicate parts and assemblies from damage during shipping, as illustrated by this Orbis-designed and built white-plastic corrugated container that includes a foam interior to protect headlight assemblies.
Another option, says Fledderman, is to hire a third party to perform the repacking of large containers preferred by the stamper into smaller packages as required by the customer. "We have one customer for which we made this arrangement," Fledderman says. "We run the stampings into large returnable packages and send it to a repacking house located near the customer. This company specializes in low-cost sorting and repackaging, and allows us to run our presses as quickly as we can without having to shut them down or minimize our efficiency by changing the run rate based on the requirement to load smaller packages. It also allowed our customer to purchase fewer of the small containers, because it only has to ship the containers from the repack house to its plant—rather than investing in an inventory of four to five weeks' worth of containers, it only had to purchase three or four days' worth of containers."
"The key," adds Hardt, "is getting value from the packaging solution for the customer and for the stamper. The stamper must be able to effectively load parts at the press, without, of course, damaging the parts, either during loading or shipping. And, the packaging solution must allow easy and cost-effective unloading at the customer's assembly lines or wherever it removes the parts from the packaging."
Packaging Technology Shines
Manufacturers of packaging products and systems have developed a slew of new offerings in recent years, and Hardt offers that perhaps the biggest challenge a metalformer faces in moving to returnable packaging is simply keeping up with what's new, evaluating the options and selecting the best products for the task at hand. Suppliers, for example, have developed bulk containers that collapse when empty to save money on return freight and storage. There also are reusable plastic containers designed to expand in any of three dimensions—height, width and length, to adjust to changing packaging requirements. Automatic tote-changing machines not only dispense totes of various sizes and speeds, but also include automatic part counters, level sensors and weight scales.
Hardt has several press lines at his facilities that employ automated packaging systems. Parts come off of the press and onto a conveyor that deposits them into returnable totes or containers. The packages are automatically weight-counted and, when full, move down the line and a new empty container is placed on the line. This minimizes labor and improves the accuracy of part counts to the customer.
"We've installed several new automated packaging lines in the last year alone," Hardt says, "and also redesigned five manually operated packaging lines with automation. And, our goal is to redesign another four or five packaging lines this year. These projects primarily are for high-volume parts with high quality requirements, where improved packaging will improve PPM levels due to reduced damage from shipping and handling."
Feintool engineers design the automated packaging systems themselves, and then work with suppliers to adapt their equipment to fit Feintool's processes, including matching packaging equipment to conveyor sizes.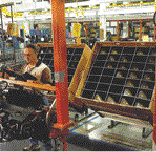 Use oflow-part-count, reusable, custom packaging along automotive assembly lines, as shown here, supports lean manufacturing initiatives and optimizes use of floor space—on the line as well as in the warehouse.
At Batesville Tool & Die, six of its 40 press lines include automated packaging systems, and several other lines employ operators to manually custom-load smaller reusable containers. Also, says Fledderman, there are instances where he cannot avoid repacking for customers—running into larger containers (maybe cardboard boxes) at the press and then repacking into smaller containers for shipping, an expensive process that also creates opportunities for mistakes.
Batesville's automated packaging lines are designed and built inhouse. Conveyors loaded with plastic totes automatically index after so many press strokes. The firm designed the automated tote-changing lines to be easily moved from one press to another as needed, and they are adjustable to work with a variety of tote sizes. For those stampings where the customer requires parts stacked or oriented in a specific in the package (perhaps to prevent damage to the part or fit more parts into the package and minimize air space), the firm relies on operators stationed at the end of presses to carefully load containers.
Give Packaging Your Full Attention
"Since returnable packaging is the to go due to energy, freight and other cost factors," says Hardt "we must get maximum value out of the packaging investment, because whatever you buy for a particular program, you're stuck with it for the life of the program. For high-volume jobs, you're looking at a six-figure investment. Therefore, designing the packaging process upfront take a lot of thought—more thought given to packaging than ever before." MF
Technologies: Pressroom Automation