Press-Tending Robot
March 1, 2008
Motoman, Inc., West Carrollton, OH, highlights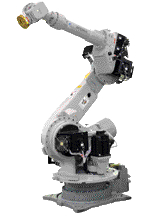 its EPH130 robot, which will be simulating a machine-tending application at METALFORM. The EPH (Expert Press Handling) 130 is nearly 22 percent faster than Motoman's 165-kg-payload HP165 robot, and is designed for the rigors of press tending. The robot is designed with higher-performance drive systems on the S, L and U axes for high-duty-cycle applications in the pressroom, but it also can be used anywhere that high-performance handling is required. The robot is vertically articulated with six axes of motion and offers a flexible layout solution.
Its large work envelope (2651 by 3372 mm) allows the robot to be used to tend presses with spacing from 4 to 7 m. The standard EPH130 robot is floor-mounted; a shelf-mounted version allows for improved clearance for die changes.
See also: Yaskawa America, Inc.
Technologies: Pressroom Automation