New Cobot Welder Features Smartphone-App Programming
April 29, 2021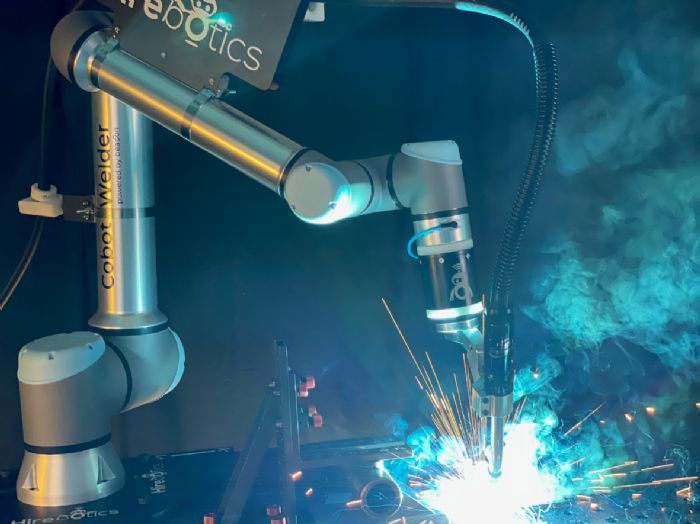 New from Hirebotics, the Cobot Welder, a collaborative-robot (cobot) welding system featuring rapid and simple programming via a cellphone app. Complete and ready for production out of the box, Cobot Welder provides all the hardware and software required to deploy automated welding, including a Universal Robots UR10e cobot, a Miller Invision 352 MPa cobot package, a Tregaskiss robotic torch, a mobile cart with a standard 5/8-in.-dia. on 2-in.-center hole pattern and the Hirebotics Cobot Welder smartphone application.
"The Cobot Welder is a major leap forward in easy-to-use welding automation that combines industrial-grade robot welding functionality with consumer-level ease of use," says Rob Goldiez, Hirebotics co-founder and CEO.
The Cobot Welder app employs Hirebotics' cloud-based Beacon software platform. Beacon provides for cobot application building and remote cobot monitoring, maintenance, and 24/7 global support.
"The app turns welders into robot programmers in a matter of minutes, no pendant required," says Mitch Dupon, director of business development of Hirebotics, who detailed the product's features and advantages during an online product launch. "By reducing the time taken to teach new parts by as much 60 percent, Cobot Welder reduces downtime, improves welding quality and productivity, and ensures painless automated welding deployments."
During the launch event, Dupon showed videos of programming using the cellphone app and simple robot manipulation by a welding technician. In one video example, the technician programmed the Cobot Welder for a linear to radial to linear-welding sequence with actual welding beginning in 3 min. 3 sec.—no pendant needed.