New ABB Robot Controllers Feature Digital Connectivity, Scalability
January 11, 2022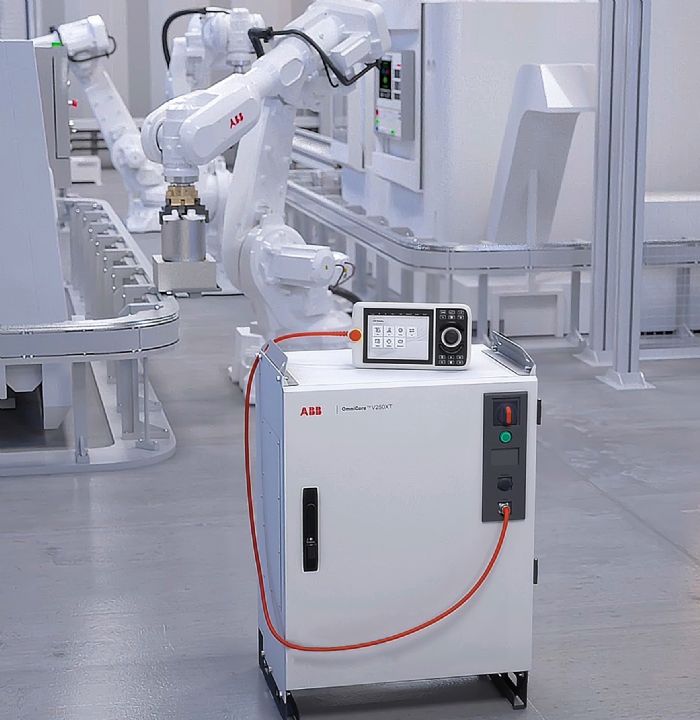 To meet the demand for faster, more efficient production, ABB has added two new robot controllers to its OmniCore family. Available for a range of robots across ABB's portfolio, the new E10 and V250XT (pictured) controllers offer optimized motion control, as well as 20-percent energy savings over existing models, and future-proofing through built-in digital connectivity. The new controls also offer more than 1000 additional functions including offline commissioning and simulation, maintenance, vision, and safety, to meet the changing requirements of customers in a variety of applications.
"The growing demands of the industry for quicker, more diverse production and greater responsiveness to changing market conditions calls for solutions that bring new levels of speed, accuracy and flexibility," says Antti Matinlauri, head of product management for ABB Robotics. "As part of ABB's OmniCore controller family, the E10 and V250XT provide manufacturers with an expanded range of possibilities, enabling them to maximize productivity and meet changing demands with minimum downtime."
Both controllers offer increased scalability and feature built-in connectivity to the ABB Ability Connected Services cloud-based service suite, enabling improved performance through enhanced predictive maintenance and lifecycle management. The inclusion of ABB's TrueMove and QuickMove motion-control technology reportedly offers faster cycle times, high speed, and good position repeatability and path accuracy.
Featuring a slimline 19-in. rack-mount design, the E10 is ideal for confined-space and high-density production lines where space saving is a key requirement, such as small parts assembly and material handling. The unit is designed to power ABB's SCARA and articulated robots with payloads of up to 11 kg.